For a while now, I've been interested in bringing t-shirts to the fans of this website. I had considered a simple logo and website listed across the chest, but I realized that I didn't want to wear that. A t-shirt design would have to be something that hopefully people who didn't religiously read the site (there are those people out there) would want to wear. Essentially, I wanted a shirt my wife and friends would wear, and not just because they wanted to support my site.
As luck would have it, a coworker at my day job had his own clothing company. We talked and I liked his style and we began brainstorming ideas on ways to make our brands coexist. The result is what you see below.
The design incorporates both companies into one t-shirt that I'm excited to put on myself. The graffiti text and stylized "O" showcase OAE Clothing's style and logo while the shirt remains distinctly Brewed For Thought.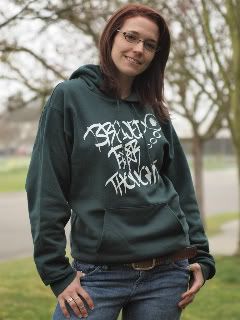 Shirts are now available and come in men's sizes M-3XL. For additional sizes, please contact me via email (mario – at- brewedforthought – dot- com).
We're proud to introduce two new items. The first is another option for fans of the "OG" design. If you're looking to stay warm, we're taking special orders for hoodies. These pullover hoodies will be made to order and will cost $30 each. Sizes run from S to 2XL. 3XL and above are subject to an additional fee. Lead times may vary, so please contact me directly.
For t-shirt fans, the second edition of the original design is here for baseball season. While I may always have beer and hops on my mind, come spring, my favorite sport also takes over. This new design is inspired by that sport and the city of San Francisco. Order your Brewed For Thought: Baseball  shirts now for $14. Supplies are limited so get them before they are gone!
There are two ways of receiving your shirts. The quickest way is to have it shipped to your address. There is a $5 shipping charge for all orders, regardless of how many shirts you buy. The other option is to have your shirts hand-delivered. This method involves you either meeting me around town, at events, festivals, or wherever makes sense for the both of us. This method allows you to save some money as well as provides incentive to come out for a beer.
Thank you for supporting Brewed For Thought and stay tuned for more T-Shirt designs ond other products from Brewed For Thought.
Includes sizes wanted in the notes portion of your purchase. Be sure to add shipping to your cart if you want this shirt shipped.