For a beer lover here in the Bay Area, there really is no time of year like SF Beer Week. From Santa Rosa to Santa Cruz and everywhere in between, there are incredible events: special beer releases, tap takeovers, and festivals with collections of ales & lagers that astound even the biggest beer geeks among us. 
While most of the action is typically centered in San Francisco and the East Bay, the former "beer desert" known as the South Bay has some fantastic events as well. Harry's Hofbrau in San Jose led the charge with a week full of events with amazing breweries. On Saturday, I checked out Harry's 2nd Annual Stone Brewing Tap Takeover.

Harry's & Stone definitely delivered the goods. So many events like these feature nothing but a brewery's widely available flagship beers. While there were a few of these (IPA, Ruination, and Arrogant Bastard), I was excited that nearly all of the draught list was filled with Stone's more rare, specialty beers – some of which are usually offered only at the brewery's own venues in Southern California. I always feel silly paying $8 for a pint of something that costs $10 for a 6-pack at my local liquor store. I definitely wouldn't be stuck doing that here.
It was hard to choose where to begin, but I went with Reason Be Damned, an Abbey Ale aged in red wine barrels. Having never had a Belgian style beer from hop-forward Stone (other than their Belgian IPA's) I went for my chance. The beer poured a hazy light amber. The aroma was woody barrel and red wine up front with fruity yeast in the background. The taste was all about the wine & woody notes with a subtle apple and pear note from the Belgian yeast. It's rare to pick up flavors this specific but there was a slight hint of roasted shallots with a floral, herbal flavor like thyme. It made me want a beef roast with red wine reduction and shallots. Towards the end of the glass, there started to be a citrusy tart aroma but it never came through in the flavor. The mouthfeel was super silky with medium low carbonation. Overall the beer had a really interesting depth and complexity to it.
Having already plunged down the rabbit hole of red wine aged beers, I went for the Cali-Belgique aged in red wine barrels. Belgian IPA's can be a difficult style for breweries to pull off but this has always been one of my favorites. How would the aging work with the base beer? I had no idea but like a kid making concoctions at the soda fountain, I couldn't help but try it. The beer was again a hazy amber color. The aroma was super fruity: Belgian yeast primarily with red wine combining to make a fruit, candy sweet aroma. There were also strong woody notes, with a little vanilla, a hint of citrusy tartness, and floral hops. In the taste, the hop bitterness had survived but most of the hop flavor was a casualty of the barrel aging. This one was all about the barrel with red wine notes dominating the fruity yeast. It had a silky mouthfeel but was more carbonated than the Reason Be Damned. I actually enjoyed this one a bit more as well.
While enjoying a Grapefruit Slam IPA from the Stochasticity Project, I had a chance to briefly interview Kory Snider of Stone Brewing. Here are a few highlights: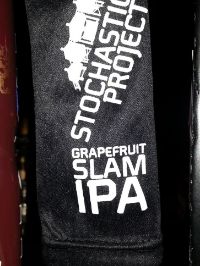 -There are some great recent releases showcased here today. The release of 2014 Old Guardian is coming on February 24. Any tweaks to this year's recipe?
"Last year we used Cascade for the first time. That was definitely a big deal for us … 2014 Old Guardian we're using Cascade. Chinook, and Delta… It's always a good beer, a fun release. We're definitely looking forward to that one"
-Some buzz has been created around the newly announced Stochasticity Project. There's some speculation that it's a Stone project. Any info on that?
"I saw something about that online. It looks really interesting." That and a very amused smile were all I got on that question. Something tells me we should stay tuned on this one.
-On the Quingenti Millilitre series:
"We had Crime, Punishment, and Southern Charred. The rest should be available nationwide going forward."
-On a potential barrel-aged Old Guardian Quingenti Millilitre release:
"Yes, that's one that came out in San Diego and Southern California at first but may [get further distribution]"
-In your time working for Stone, what have been the biggest hits?:
The RuinTen that we did last year was a big hit. People were definitely calling trying to get their hands on that. We'll be doing that again this year … It's big beer in a lot of ways.
Then, of course, Enjoy By. That's probably one of the most successful beers we had in the market last year. We definitely plan on rolling that beer out more and more because we had such a good response with it and we want more people to have that experience: To understand and taste fresh beer. It helps people see the importance of having beer so soon after it's packaged. We want to get that experience out to as many people as want it and as many as we can.
-On Enjoy By 4/20/14:
Yes, that's the next Enjoy By release that will be coming up here to the South Bay. We're definitely going to get that up here. Last year we know some people were disappointed to not get their hands on it so we're working with our retailers in the area right now to make sure we can go big with it!
I, for one, can't wait.
Stone and Harry's made for a great combination today. It's no surprise. While Stone is credited for being one of the pioneering craft brewers here on the West Coast, Harry's definitely deserves credit for being a local pioneer and the first venue in the South Bay to really take craft beer seriously. I have to confess a soft spot for Harry's as I can remember eating roast beef sandwiches there with my family from the time I had to sit in a booster seat to now. It's has been so satisfying to see a place that near and dear to my childhood turn into a place that is revered now for such different reasons. If only they'd still let me sit in a booster seat.