Sonoma County is becoming known for hop heavy beers in this new IPA-loving beer scene. With brewers around the country upping their game and producing increasingly hoppy beers, it's impressive that Santa Rosa can keep the gaze of the beer world and continue representing at events like the Bistro's Double IPA Festival. With SF Beer Week behind us, there's still time to make it to downtown Santa Rosa for the beer that took Silver in this year's competition. The Beer of the Week is Third Street Aleworks' Double Standard Double IPA.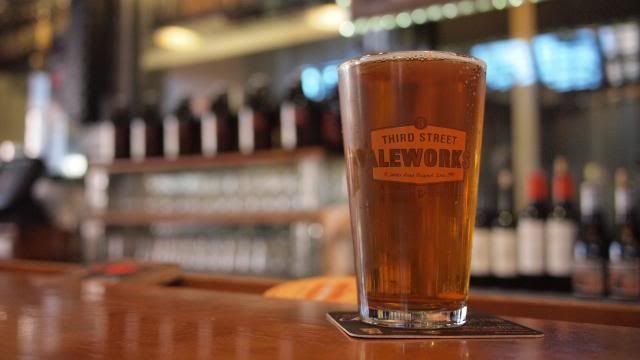 Originally brewed to commemorate our 15th Anniversary, Double Standard is a Double IPA with a very aggressive hop profile you would expect from the style, and an equally pungent hop aroma – intense but remarkably smooth. Like most "big" IPAs with abundant and complex hop aromatics, Double Standard is best enjoyed fresh off our in-house tap or as soon as you can pop that bottle or growler. The fresher the better! 9.1% ALC/VOL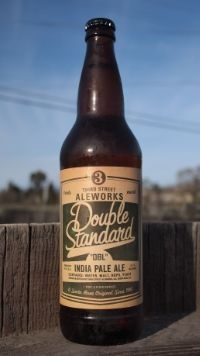 Double Standard kicks off with a fairly mild aroma of pepper, pine and citrus. This beer feels good to drink. A light malt impact provides honey and caramel flavors and washes into a bristly pine bitterness with bright notes of orange pith and alcohol. Feels like an IPA and disguises the true strength within the beer.
I first tried Double Standard at the Third Street brewpub the day after its release. The first half of the pint was enjoyable but as I continued to finish my beer I became more and more impressed by the hop profile and easy drinking nature of such a big beer. it was almost as if by surprise, but the thought popped into my head, "Wow, this is really good!"
It was two days later that Double Standard earned the Silver Medal for Double IPAs at the Bistro's Double IPA Festival (which now has a separate category for Triple IPAs as well). Possibly more impressive, Double Standard brought home this medal in a field where the beer everyone is lining up to sample didn't manage to garner any award in this year's competition.
San Francisco Beer Week is behind us, but downtown Santa Rosa will still feel the crush of the beer geek crowds until Pliny the Younger's two week engagement at Russian River ends on Thursday. While people are lining up for hours to get a taste of that limited, draft-only beer, Double Standard will be available at Third Street Aleworks on draft and in bottles to take home as well (Limit 1 bottle per person per day).