The concept of craft beer has been moving beyond the pint glass and into other aspects of our lives for some time. When you expect more from your beer, you tend to expect more from other things as well. Food is the easiest extension of this idea and in Santa Rosa we're seeing that good food and good beer go hand in hand. This brought me to a hidden neighborhood located right in the middle of Santa Rosa to visit a restaurant that bring goof food, good beer, wine and community together under one roof. Join me as I check in on Spinster Sisters. 
Once upon a time, Sebastopol Road was a major thoroughfare through Santa Rosa, connecting neighboring cities and meeting up with the Old Redwood Highway just south of downtown Santa Rosa. Then came the freeways. A short section of the regional connector was cut away and left hidden in the shadow of the new conduits of traffic. Today, the South of A neighborhood is experiencing a revival with a fresh atmosphere of artists and local businesses, one of which being the Spinster Sisters restaurant.
Not a beer bar by name, but embracing the concept of craft beer, owner Giovanni Cerrone has created a dynamic space that celebrates food and community. The physical space is tightly connected to the history of the building and neighborhood. The cement floor and exposed structure don't hide the years of experiences housed within the building, an aesthetic Cerrone brought to his restaurant from years of living in Europe.
But you're anxious to hear about the food, and I couldn't blame you. The menu at Spinster Sisters is creative and likely to pull many eaters out of the comfort zones. Don't expect to find a hamburger on this menu (though they do feature one, once a week as a special) as the food is intended to challenge the customer. Know that with challenge comes reward.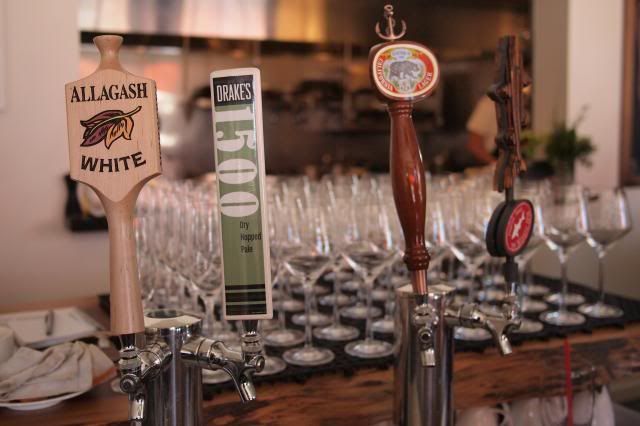 For beer, there are 4 taps, currently Allagash White, Anchor California Lager, Drake's 1500 Pale Ale and Dogfish Head's 90 Minute IPA. They will soon be adding Moonlight Brewing beers with Mispent Youth making the first appearance followed by Lunatic Lager. Bottled beers are also available, chosen by Cerrone personally.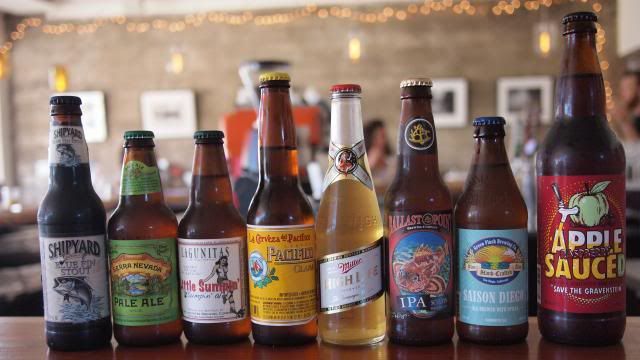 I let Giovanni show me around the menu and he didn't lead me astray once. First out was a pair of Kimchee and Bacon Deviled Eggs. As I mentioned before, this may take some folks out of their comfort zone. I'm neither a big fan of eggs, nor a kimchee lover, but this bite-sized appetizer was fantastic. The spice of the kimchi went well with the sulfury egg, all made better by a generous addition of bacon bits. I paired this with the California Lager which already carried subtle sulfur notes in a very pleasing way.
Next was a Wilted Kale Salad featuring blue cheese, cherry tomatoes, bacon, hard boiled eggs croutons and a mustard vinagarette. Kale is a popular leafy green with the health community and one I've always found a bit rough in texture. With a slight wilting the green becomes much more pleasing and this salad is filled with bright flavors. I would best describe the dish as refreshing and made for the perfect mid-afternoon meal on a hot day. The Drake's 1500 brought out the sharpness of the blue cheese but also maintained the refreshing quality of the dish, a great pairing and one I look forward to experiencing again.
He saved the best for last though, a Crsipy Pork Shoulder on a bed of white beans, zucchini, poblano chili, cotija, squash blossom salsa and a wedge of lime on the side which I added liberally. This dish reminded me of a carnitas dinner with bright citric flavors from the lime against the salty pork, spicy, fresh pepper and the completely satisfying texture of properly cooked beans. While I anticipated the 1500 again being the best pairing I was surprised to find neither the 1500 not 90 Minute IPA to hit the right spot. Giovanni stepped in with a glass of Malvasia which made the dish jump. Rarely do I ad mit this, but the wine was the better pairing this day. It was within this brief visit that I was able to capture so much more about Spinster Sisters than just a sample of the menu.
The staff is well informed and eager to make suggestions on wine pairings for dishes. The beer and wine list are more than just regional exclusives but curated by Cerrone with a specific idea in mind. Even the concept of not providing salt and pepper at the tables (you can have it if you ask) is intentional, as the  owner has faith in his kitchen to bring a dish to the table ready, not only to enjoy but impress.
As I got up to leave I found it difficult as Cerrone was eager to engage in conversation, which I was happy to respond. I had been there less than an hour but was immediately comfortable. I found my opportunity when a customer came through the door and Cerrone had to excuse himself, not out of obligation but out of a desire to see a friend, a customer, a fellow member of the community. Spinster Sisters is just that, a part of this hidden community under the freeway and one that I'm anxious to get back to.
See more photos from the Spinster Sisters on Brewed For Thought's Facebook page. Visit the page, like Brewed For Thought and share the photos with your friends.