This weekend I find myself in Reno getting ready for CanFest. CanFest is a celebration of craft beer in cans so it only makes sense to grab one of the best canned beers on the market. Not only is this beer one of the best cans out there, but RateBeer ranks this beer as the best IPA in the World in RateBeer's Best 2013. The Beer of the Week is Ballast Point's Sculpin IPA.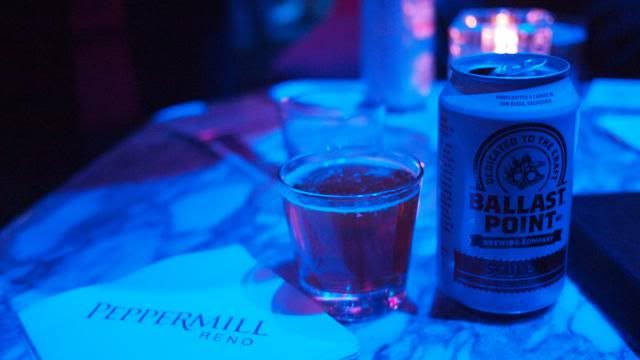 The Sculpin is a testament to our humble beginnings as Home Brew Mart. It showcases bright flavors and aromas of apricot, peach, mango & lemon. The lighter body also brings out the crispness of the hops.

This delicious Ballast Point Ale won a gold medal at the World Beer Cup 2010 in the International Pale Ale category. The Sculpin fish has poisonous spikes on its fins that can give a strong sting.

Ironically, the meat from a Sculpin is considered some of the tastiest. Something that has a sting but tastes great, sounds like a Ballast Point India Pale Ale.

Availability: Year-round in 22oz & draft
Bitterness: 70 IBUS
Alc. by Vol.: 7 %
Serving Temperature: 40-45 degrees
Sculpin pours a rich amber with a frothy white head. The aroma of pine and tropical fruits jump from the beer. The malt base provides a canvas for big hop flavors. The bitterness of the hops is distinct but not harsh, letting the floral qualities of the hops shine through. Tropical and pitted fruits emerge from the finish and linger on the tongue with a touch of resinous pine.
In a can, the hops of Sculpin are protected from light and are allowed to be presented to the drinker in the way in which the brewer intended. If properly stored, canned beer is as fresh as draft kegs, allowing beer quality to be better maintained through the supply chain.
Ballast Point's Sculpin IPA is just one of many excellent beers available in cans and appearing at CanFest. As the event matures, the selection of beer has gone from the expected lagers, pale ales and IPAs to showcasing the variety of beers available in cans. This year, with a new location and VIP area, CanFest promises to be better than ever. Hope to see you in Reno this weekend, and if you miss this one, be here in 2014.