It seems they're having fermentation festivals all the time. Well, that is if you only think of alcohol when you think of fermentation. In fact, fermentation is a process for making all sorts of things and the Farm to Fermentation Festival put these on display at the Finley Center in Santa Rosa.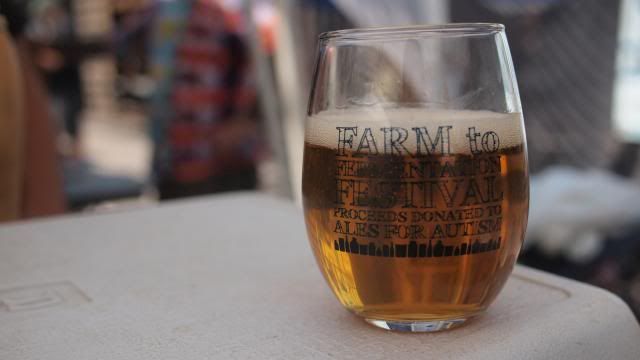 As you enter the Farm to Fermentation Festival you're met with a room full of vendors with access to classrooms and a pair of convention areas. The first is inside and feature foods and beverages while outside are additional vendors and alcohol booths. Your General Admission ticket gets you into the food and beverages area and while you're free to visit the alcohol booths, sampling requires a $50 VIP ticket.
As is good practice before any drinking session, we started with the food and were overwhelmed by the amount of kim chi, kraut and pickles on display. Of the kraut and kim chi samples, the Farmhouse Culture booth was definitely a personal favorite with a Ginger Beet kraut and Smoked Jalapeno kraut that definitely won me over. Additional treats included olives, cheese, cured meats, natural sodas and plenty of Kombucha.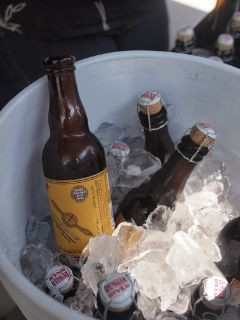 Outside, the sun was out and the heat was building in the courtyard. In addition to the craft breweries on hand, there was a wide selection of all types of fermented beverages including local wine, mead and sake. I was by the Heidrun Meadery and their carrot blossom mead which was incredibly floral and quite refreshing on a hot summer's afternoon.
On the beer side, the number of breweries were limited but the selection was quite impressive. Sour beer fans were up for a treat as three breweries brought along sour offerings in the way of a pair from Sudwerk, one from Drake's and a pouring of Beatification by Santa Rosa's Russian River Brewing. I was surprised to see Thirsty Bear of San Francisco make the trip but the organic brewery with an emphasis on local ingredients both in their brews as well as their pub menu was a natural fit.
Inside the VIP classroom, Jeff Bull provided a tasting of beer styles with an assist from Bear Republic Brewing. The tasting covered a wide range of Bear Republic's beers and included kegs, growlers and bottles, digging deep into their selection.
As I mentioned, the heat was a big factor on this afternoon. As a result, despite some highly touted beers being poured, I felt the hits of the day were the sessionable beers. I found myself reaching for Drake's 1500, Ruth McGowan's Acapulco Gold and Thirsty Bear's Polar Bear Pilsner throughout the afternoon. In an odd twist, the Russian River booth was easily accessible for pours of Pliny the Elder and Damnation. The lines did form when the Beatification appeared but quickly fizzled.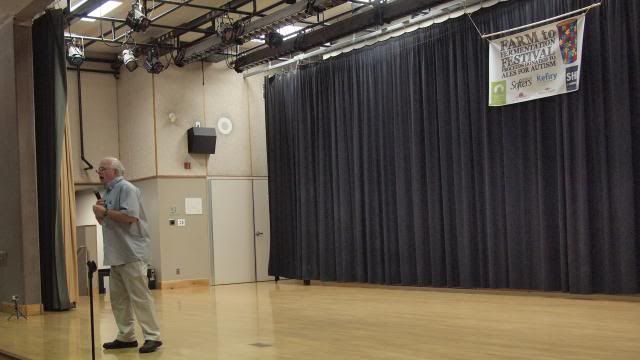 The Farm to Fermentation Festival wasn't a beer geek's festival, but it was a great festival for a community. Families were in attendance and the educational component of the event only seemed to bring people together more as kids and adults alike were engaged in conversations about fermentation. The afternoon culminated in a great talk by UC Davis professor Charlie Bamforth who is as entertaining as he is informative and a must see for any lover of brewing sciences.
See more photos from the Farm to Fermentation Festival on Brewed For Thought's Facebook page. Visit the page, like Brewed For Thought and share the photos with your friends.