Sonoma County has finally gotten back to the summer heat, so it's time for a beer that can refresh but also satisfy this ridiculous hop binge that I'm on. India Pale Ales can be a bit too heavy and lagers can lack the bitterness I'm in search for. As a perfect compromise in the middle, I chose this week's featured beer. The Beer of the week is Widmer Brother's Hopside Down India Pale Lager.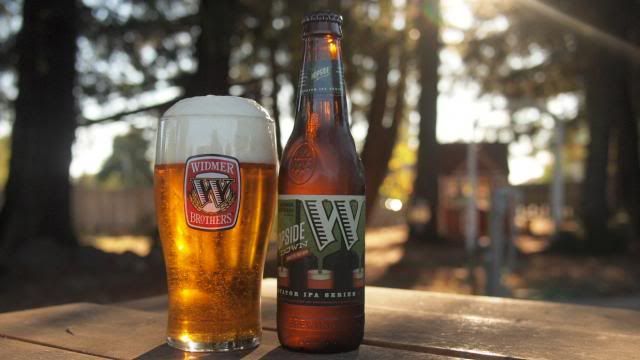 We're turning things deliciously upside down with an aggressively hopped, cold-fermented brew that brings together the clean, crisp finish of a lager with the hoppy aroma and character of an IPA. Prost to turning convention on its head!

Malts: Pale, Caramel 10L
Hops: Alchemy, Cascade
Original Gravity: 15.0
IBU: 50
ABV: 6.7%
Hopside Down pours a rich amber gold with a frothy white head. The aroma is reminiscent of a European lager, grassy and with a lemon pith bitterness. On the palate the flavor is clean and slightly nutty with the malt fading quickly to the bitterness of the hops. Citrus-dominated brightness highlight the hops which bite the tongue lightly before disappearing. As with most lagers, the finish is dry and clean with little lingering aftertaste.
Hopside Down India Pale Lager is the latest from the Widmer Brother's Rotator IPA series. Previous entries from this series have included O'Ryely IPA, Spiced IPA and Shaddock IPA among others. In addition to the Brother's Reserve series, these beers beers have shown a new face to the Widmer Brothers portfolio that is generally overlooked by a beer community stuck on identifying Widmer with their Hefeweizen..
Hopside Down Lager is a great option for those who are IPA lovers but want the crisp nature of a lager. Additionally, the clean profile of the lager yeast gets out of the way of the flavor of the hops, exposing additional nuances that otherwise would have been lost in the fruity nature of an ale yeast. Enjoy Hopside Down Lager while available, which should be through the remainder of 2013.