Fruit can be a controversial topic among beer lovers. Too much fruit, and the opinion is that the beer's integrity has been compromised. That said, some of the most respected beers in the word have significant fruit forward flavors. With that in mind, I reached for a beer this week that has fresh fruit juice added. The Beer of the Week is Samuel Smith Organic Apricot Ale.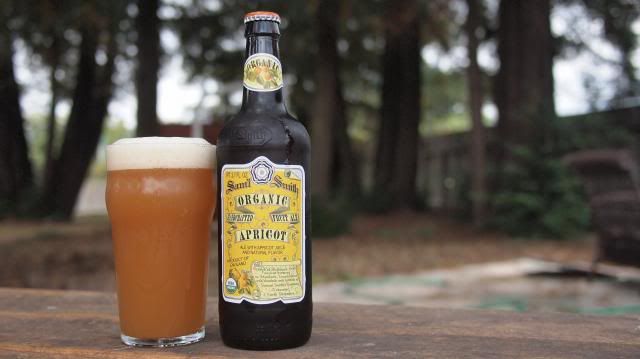 Samuel Smith Organic Apricot Ale

Classic rich, ripe apricot aroma and flavor in superb organic ale.

The History of Organic Apricot Ale

Samuel Smith's Organic Fruit Beers are brewed and fermented at Melbourn Bros. Brewery in Stamford; then blended, conditioned and packaged at Samuel Smith's Old Brewery in Tadcaster; they are Certified Organic by the USDA-accredited UK Soil Association.

While there are older breweries in England, it would be safe to say that few are so little changed as this gem at Stamford, which has stood in the center of this beautifully preserved market community since 1825. From the antique grist mill to the ancient copper vessels, Melbourn Bros. remains today, a working brewery which blends the traditions of the ancient craft with that of the early industrial revolution. Closed in the 1970s, restoration with respect for the historical brewing equipment was begun by Samuel Smith's in the 1990s.

Before Samuel Smith's earned organic certification for Melbourn Bros. Brewery in 2008, Apricot Ale was their top-selling beer. The search to find Certified Organic apricots took some time, but Samuel Smith's Organic Apricot Ale was finally introduced to the US in February 2012.
Taste

People have enjoyed apricots since prehistoric times – so long, in fact, that the origin of apricot trees, Prunus armeniaca, is uncertain. Although the scientific name suggests an origin in Armenia some scholars think apricots originated in China. They are now grown around the world where the climate allows.

Apricots contribute to a stunning fruit beer: the ripe, aromatic bouquet supports a sweet, summery flavor with just a suggestion of stone-fruit tartness. Samuel Smith's Organic Apricot Ale is rich and full-bodied; the color is a glowing hazy orange.
Serving Suggestion

Try with curries or Moroccan chicken; rice pilaf; or couscous. A wonderful pairing with fruit salad – whether it contains apricots or not. Try with vanilla ice cream or custard for dessert.

Accolade

Gold Medal – US Open 2012. "Top fruit beer" as announced July 31, 2012. Here is the full list of winners.

"Five out of five mugs" – Modern Brewery Age, March 28, 2012. Here is the complete review as a 47 KB .pdf.

Gold Medal and "Top-Rated Fruit Beer" – World Beer Championships 2012.

Product Sizes and Quantities

18.7-ounce (550 ml) "Victorian Pint" bottles / 12 bottles per case

Stats

ABV: 5.1% – OG: 1.065 – IBU: 14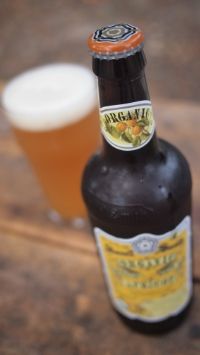 Samuel Smith's Organic Apricot Ale pours as if you're spilling an apricot into the glass: orange and cloudy. The aroma is of sweet apricot purée. On the palate the apricots lead the way with an acidic bite in the finish that brings to mind the tart essence of the fruit's skin. The mixture of sweet followed by tart, combined with a viscous mouthfeel, provides a satisfying experience that keeps you reaching for more.
While Samuel Smith's Organic apricot Ale is indeed fruit forward, and significantly so, and is also sweeter than most of the beer I general prefer, the combination of sweet and tart makes this beer truly sing.
Approachable by newcomers who many not like hops, I also like this beer for what it can bring to a beer tasting. I'd love to try a selection of modern IPAs with this beer mixed in the middle, bringing out the sweet apricot notes of the latest strains of hops.
Do fruit-infused beers have a place in your cooler? Are there exceptions to that rule if you're in the group that avoid "fruity beers?" Do you have to defend your selections if you're not? Let's talk about fruit!