As the Sun rose over Brooklyn, we searched for the bus that would take us a great many hours and miles away from the friendly confines of New York City. It was a search based on the pursuit of great beer and celebration of one Brewery that now had even more power to create it then ever. We found our vessel, filled with conversation about the history of Shmaltz, how long this trip might actually take and, of course, bagels. 
Upon arrival, we were ushered through for a sneak peak at the silos, and back through Shmaltz' well designed bar/lounge/gift shop. The turnout was part Portlandia, part Twin Peaks and somehow that meshed perfectly. The volume of locals was pretty astonishing, throw into the mix all of us from the Bus trip and people that traveled from as far as Long Island (some probably further) and you have a party. That party was well thought out too. We were treated not only to the best Shmaltz had to offer, but also some great food trucks (one from Montreal, one from Albany), a band as well as the Human Blockhead and a cabaret dancer from Coney Island. We also had tasting stations from local breweries, craft brewers and fellow BK based brewers as well. I didn't even mention the beer based carnival games like Beer Bottle fishing and the no-brainer "ring toss" around some Shmaltz bottles, all for Shmaltz related prizes of course. I didn't win anything that day, but I'll be the first to tell you that I came very close.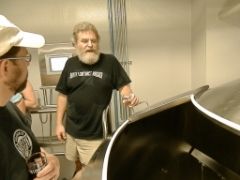 The Brewery Tour was another great attraction, the assembled crowd got some question and answer time with Head Brewer Paul McErlean and took full advantage of it. He fielded some advanced questions from the beer nerds as well as the first time questions of dedicated Bud men. My favorites of what was served were both from Shmaltz, which is really a great compliment to a brewery not afraid to bring some friendly competition into their own building on their own day. The "Death of a Contract Brewer" mix was actually terrific for the event, a Black IPA, it had some great spicy kick on the tail end. My favorite though is Shmaltz' 2013 version of their He'Brew Rejewvenator. A cute moment that showed that I wasn't in New York City anymore was when I inquired about buying some bottles of it to bring home. I asked a young pourer where I could get some and he said "we've got that in the gift shop…..but they are 7 dollars a bottle". Being a guy that only a week later would be paying 9 dollars, in the depths of Brooklyn, for a simple pour from a tap, that price was actually a steal and I took two of the well packaged and cooled bottles home with me. It's root beer float like qualities will keep me inside on a night where I might want to go out in the future.
I was also treated to some local breweries to the Albany area, some of them which I'd never come across. The winner of that mix was Adirondack, who's Rock the Boat Saison was packed with fruity undertones. A real treat were some of the home brew clubs that were in attendance, with their Kolsch's and "tastes like lemonade" aged saisons. Their involvement showed the understanding of promoting the craft community by Shmaltz. I'd be remiss if I didn't also mention the Industrial IPA and other brews brought by one of my personal favorite breweries, Kelso from Brooklyn. Their involvement was a friendly reminder that I wasn't THAT far from Brooklyn.
Fans of Shmaltz seemed happy to see "The Human Blockhead" in person, come to life from the design on the bottle of beer named after him. He then proceeded to swallow swords, what appeared to be a 6 foot long balloon and drill and hammer things into his face (literally). Blockhead's sense of human and self deprication kept everything fun and light, it painted the room with some dark humor that was perfectly fitting for a brewery who's beers are based on Carnival Freaks and Jewish Culture.
A scenic but hot day came to a close with a bang literally. A huge thunder strike hit at almost precisely the time the event was scheduled to end. The rains passed as fast as they arrived and we loaded back on the bus. The ride home flowed with conversation, mostly stemming from the beers we sampled but reached into high minded topics like public transit, taxation and housing. What else can you expect when some intelligent people get together for some drinks?
We disbanded, each of us with some purchased bottles to fit perfectly into our beer fridges. Great memories formed of a beautifully laid out, crispy new Brewery off in the woods of rural New York State.
See more photos from the brewery opening on Brewed For Thought's Facebook page. Visit the page, like Brewed For Thought and share the photos with your friends.