New York City's Beer Week is wrapping up, so it only seemed appropriate to shine the light on the brewery that has represented craft brewing in the five boroughs for quite some time. With a brewmaster that speaks to folks across the food and beer industries, it's always a pleasure to get a chance to drink some of the beer that take's its name from the borough from which it hails. The Beer of the Week is Brooklyn Brewery's Dry Irish Stout.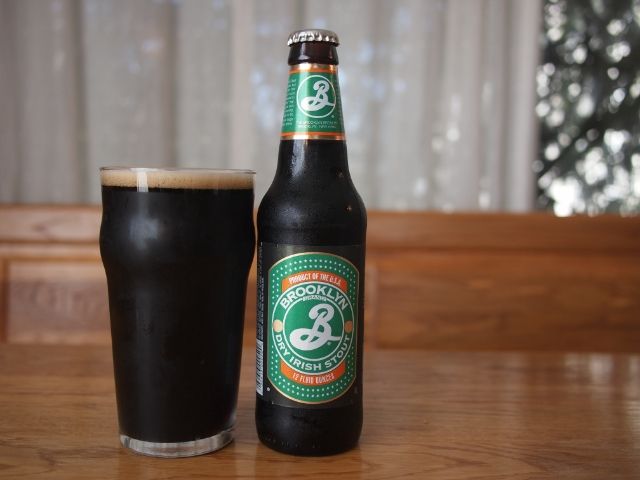 The Irish Stout beer style was once produced by dozens of breweries in Ireland. These days it is only produced by three major breweries in Ireland, none of them Irish-owned, though several small breweries and brewpubs make stout as well. People are often surprised to hear that Irish stouts are among the lightest beers on draft, both in alcohol and in calories. These beers were originally designed as "session pints", a term denoting beers that one can stick with for a long evening. These days, the major producers of Irish Stout dissolve nitrogen into the beer to produce the trademark head, a practice that started in 1960.

Brooklyn Irish Stout is brewed the old-fashioned way, without the nitrogen addition. A large portion of the grain is roasted like coffee beans, developing the typical color and flavor of this beer. Aside from British pale malts, the beer includes caramel malts, black patent malt, unmalted black barley and a proportion of flaked raw barley, which helps the beer develop a beautiful, thick natural head. The famous East Kent Golding hop lends to the earthy aroma. The beer is neither filtered, nor fined and has a light, brisk carbonation. The blend of grains gives the beer an espresso-like bite, followed by coffee and chocolate flavors. At 4.7% ABV, this is among the lightest beers we make, and one of our favorites. Be sure to serve it with "two fingers" of foam, and enjoy the flavor of Brooklyn Irish Stout. Slainte!

SPEC SHEET
Style: uh…Dry Irish Stout
Malts: Two-row English, black malt, black barley, caramel malt and unmalted barley
Hops: Willamette, Fuggles, Cascade, East Kent Golding
Alcohol by Volume: 4.7%
Food Pairings: Corned beef, cabbage, shepherd's pie, pots o' gold.
Availability: January-March
Format: 15.5 gal kegs; 5.2 gal kegs; 24/12oz bottles
Brooklyn's Dry Irish Stout starts with a dry chocolatey aroma with a touch of charcoal and bitter coffee. The beer hits your tongue lightly with a refreshing feeling. As you swallow the flavors emerge. Notes of coffee and dark chocolate are restrained but come together to provide a full flavored experience. A slightly sour finish cleanses the palate and has you ready to experience the beer all over again.
I looked forward to this post for a couple reasons. For one, my New York City contributor is hanging out with Brooklyn's Garrett Oliver right about now to celebrate one of the final events of New York City Beer Week (Look for his recap of that to post in the coming days).
Additionally, with St. Patrick's Day right around the corner, it's good to become acquainted with a full flavored Irish Stout so that you're not stuck drinking the same old beer. While Brooklyn's Irish Stout may not be available in your back yard, there are plenty of great Dry Irish Stouts to try in any region. Hopefully this will inspire you to find one that fits for you.