San Francisco Beer Week always wraps up with the Celebrator Anniversary Party somwhere in the East Bay. To mark 25 years, the party was back downtown in Oakland and was a great way to wish farewell to the craziest week of beer on the West Coast. 
The event kicked off with a long line for VIP and General Admission already began forming an hour before their passes would let them in. Upon crossing into the event the first thing you saw was a line for Pliny the Younger. With over 2 weeks since the pub first tapped the imperial IPA and having seen it at a handful of events since, I was more than happy to work my way around the line and head for other beers.
The selection offers around the room was very impressive. Lagunitas' Imperial Russian Smoked Oyster Stout was the first beer to raise my eyebrows but may followed. The cuvee being served by James Costa of Half Moon Bay Brewing had me pause to enjoy. The Drake's and Stone collaboration for the 25th Anniversary was light and refreshing while still incredibly hoppy. Others were noteworthy as well, but with Beer Week wrapping up, the sheer volume of great beer in the room almost made it expected that each sample would be fantastic.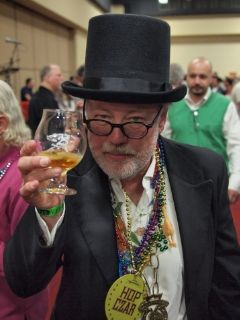 Among the people in attendance, the Mardis Gras theme was alive.  Masks, headpieces, costumes and beads were everywhere. I'm a big fan of costumed themes as it automatically lets people drop their guard and enjoy themselves, not that a couple samples of beer wouldn't do the same, but it also reaches out to others who may not be in costume. The feeling was infectious and it could be felt throughout the crowd.
But in the end, the night was about Celebrator Magazine and their team of writers and photographers. Tom Dalldorf took the stage with the entire crew behind him for a speech and toast that really took the evening from a fun time and got the party going.
From a live jazz band to a live broadcast by the Brewing Network and the excellent beers on tap, the evening was electric and you felt like you were a part of something special, not just another beer festival.
As usual, see more photos of the event at the Brewed For Thought Facebook page. And for those who think I should mention the other beers I was such a fan of, the following come to mind: Green Flash Silva Stout and Flanders Drive, New Belgium Cascara Quad, Marin Brewings White Knuckle, Mendonesia from Anderson Valley, Belgian Tramp from Bison, Triple Rock Keyser Soze and Russian River's Pliny the Younger (ok, so I went back for one last glass). If I missed any, I apologize, but the selection was fantastic.