San Francisco Beer Week kicks off every year with their Opening Celebration. It's the first opportunity for beer lovers to try the annual San Francisco Brewer's Guild Beer as well as an unofficial release of numerous other SF Beer Week specialty beers. Here's what went down for the 2013 edition.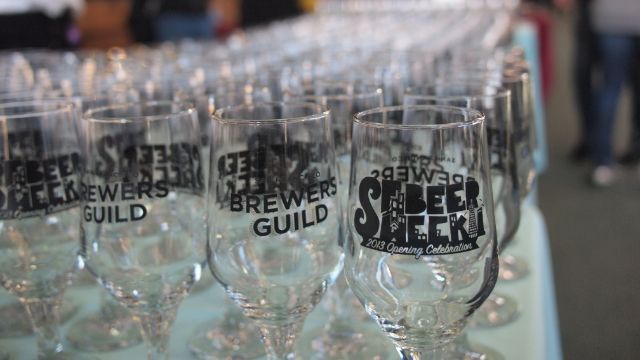 The Opening Celebration found itself back at the Concourse Exhibition Center but in the opposite end of the building on the eastern half. While the entrance was less grand than the previous room, the layout and facilities seemed to fit better this time around. At the door media was let in early enough that I was able to chat with brewers before the crush of the thirsty public got in and this gave me ample time to find new beers and get some information about others.
When the doors did open, lines began forming quickly for fan favorites. Most notably, the line for Russian River's Pliny the Younger was near instant, but this wasn't an exclusive problem for the Santa Rosa brewery. I personally noticed lines for Bear Republic, North Coast and High Water Brewing, though I had heard of other breweries experiencing similar runs on their beer. While there is usually a wait to get a beer in a room crammed with beer lovers, these lines were noteworthy in that they stretched beyond the limits of their brewery's space.
Despite the presence of long lines for some beers, the event flowed smoothly and it was easy to travel from one end of the space to the other. Lines may have been long but moved quickly as well and there were no complaints that I picked up on.
After a few beers, many started looking for a bite to eat. While I never got to the food booths, I did notice the food was particularly tempting this year. Tamales, as always, caught my attention but the most talked about food was the Belly Burgers, burgers made from 100% ground pork belly. In theory, this is a decadent meal that has to be tried, but I have to admit, I was a little scared. Could it really live up to the image in my mind, and if so, could I control myself and not go back? As I said, I avoided the food but reports of the amazing belly burger did make their way back to me.
Burger and crowds are nice, but everyone was here for the beer! In an event like this, I'm always looking for the new beer to catch my attention. Three breweries really did a good job of this. Southpaw of San Francisco lured me to their table with their Smoked Ginger Saison but really wowed me with their Mighty Quinn Belgian Strong which had cocoa nibs and habanero added. Not spicy, but incredibly savory, I tried this one early and tried to convince may others to give it a sample as well. Another new brewery that won me over was Altamont Brewing. I tried their Session Pale and Ganja Juice and have to say, this breweries is one to keep an eye on for hop lovers. Lastly, if you haven't tried Berryessa Brewing, please do yourself a favor and find this brewery. Located off the beaten path in Winters, CA, Berryessa has impressed me twice now, once at Boonville and again at the Opening Celebration, and it's getting to the point where I can't say I am surprised any more.
From the rest of the breweries, sours really were the theme of the day. Bear Republic's Tartare, Ale Industries Unity As In Edward, Almanac's new collection of sours, Bison Brewing's tart offerings, the list could go on and on. The tap selections had a feeling like those found at Boonville where the beers were put on to showcase the skills of the brewery as much as introduce people to them.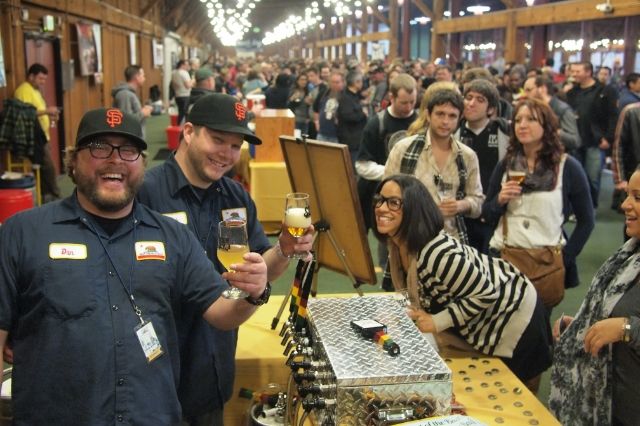 The impressive tap list is also a component of one of my favorite qualities of San Francisco Beer Week's Opening Celebration. Brewers, reps, industry folks, you name it, are all as much a part of the scene on the floor as the beer lovers. While you could find them working the taps and telling about their beer, brewers were also side by side with beer lovers looking for that new beer that excites their palate. San Francisco Beer Week's Opening Celebration emphasizes that craft beer is a community in a completely organic way without it feeling forced or obligatory.
While the event was still in full swing I found my way to the exit, never liking the final moments of a festival, I prefer to leave on a high note. With another 9 days of events I plan on hanging around Sonoma County this Beer Week with maybe another appearance down in the Bay. Please check out the photos on the Brewed For thought Facebook page to see everything that went down as we kicked off our favorite Beer Week of the year.