San Francisco Beer week is well under way, but we're also staring down Mardis Gras and Lent. To mark both, I wanted to feature a beer to help you through the fast as well as one that you might encounter while celebrating craft beer around the Bay Area. The featured brewery will have their brewer in town for a special night at Taps in Petaluma this week and this will be one of the many beers on tap for the occasion. The Beer of the Week is Grand Teton Brewing's Double Vision Doppelbock.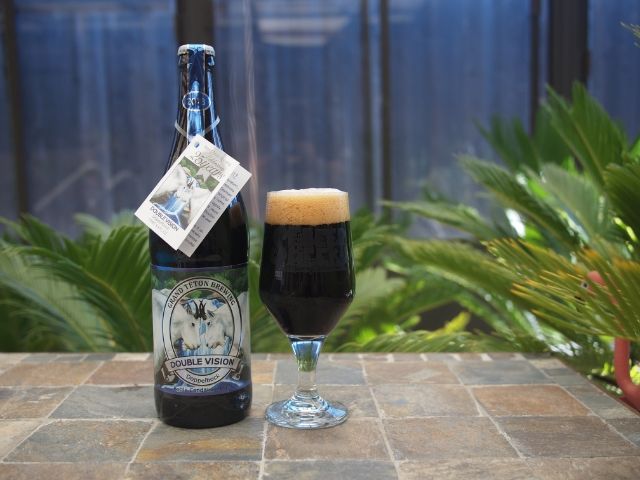 2013 marks the 25th anniversary of Grand Teton Brewing. In celebration, we're bringing back three of our favorite styles for this year's Cellar Reserves. Double Vision Doppelbock was first brewed in 2009 to highlight our brewery's wonderful water. Like all the great traditional brewing towns, our home, Victor, Idaho, is in or near some of the world's best barley- and hop-growing regions, and is distinguished by an ample supply of top-quality water.

The 17th century Paulist monks of Munich were allowed no solid food during their twice-yearly fasts. They brewed an especially nourishing strong dark lager they called "liquid bread" and named "Holy Father" to help them through the Lenten and Advent fasts. The beer was known as a doppelbock, which signifies a strong lager. Since "bock" also means "billy goat" in German, these beers are often decorated with images of gallivanting goats. Our Double Vision label features two goats in front of a waterfall—a reminder of the importance of water to the development of the style as well as the taste of this strong lager.

Our Double Vision Doppelbock is brewed with Idaho 2-Row Pale and German Munich, CaraAroma, CaraMunich and de-husked Carafa malts to an original gravity of 22˚ Plato. The malts provide a dark leather color with ruby notes, a luxurious tan head, and a bready aroma with a hint of smoke. It is lightly spiced with German Hallertau Tradition hops and fermented with lager yeast from a monastery brewery near Munich. In the traditional manner, Double Vision is fermented cold (48 F) and lagered a full 12 weeks for smoothness. At 8% alcohol by volume, it is a deceptively drinkable springtime warmer.

Double Vision's slightly burnt caramel flavor and malt sweetness make it an incredible match for game—venison, moose, duck, goose, and wild boar—especially when prepared with fruity sauces or reductions. Try it with pork and sautéed apples, roasted root vegetables, sweet sausages, ham or prosciutto. It's wonderful with cheese and dessert, too. Pair it with an aged Gruyère, a caramel flan, or a crème brulee.

Double Vision Dopplebock is a one time release available January 15, 2013 in 1/2 and 1/6 bbl kegs and bottle-conditioned 750 mL cases.

Original Gravity (Plato): 22˚
International Bitterness Units: 40
Alcohol by Volume: 8%
Color (Lovibond): 47˚
Double Vision pours a thick mahogany brown that turns back as the glass fills. A light coffee-and-cream head sits on top and fades away. Rich aromas of chocolate liqueur and anise rise from the glass promising a decadent experience. A sting of alcohol grips the tongue but it quickly washed away by roasted malt sweetness. Molasses, cherry, chocolate and wood blend together before the sting of sharp licorice is left on the palate.
Double Vision is a great beer to drink on these chilly winter nights. This rich flavors and warming alcohol will be a welcome comfort after the long shadows of winter have turned into the long evenings. Be sure to get a taste at Taps this Tuesday as their Meet the Brewer will be a rare opportunity to meet the crew behind these beers hailing from Victor, Idaho. If you can't make it to Taps, be sure to visit the San Francisco Beer Week website for additional Grand Teton events as well as other great events around the Bay area.