The 9th annual Strange Brew Fest was held at the American Legion Hall in Port Townsend, WA January 25-27, 2013. Port Townsend is a quaint town that is approximately two hour journey from Seattle, the beer festival is a huge tourist attraction for the city and makes for a great excuse for a quick weekend getaway.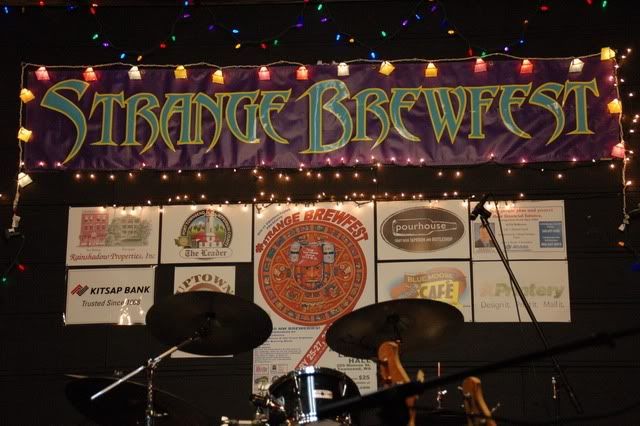 Online ticket sales began in late December, tickets were also sold at the door throughout the weekend. Tickets were $25 and included a souvenir tasting glass, four tasting tokens, and a wristband for entry. The wristband gave attendees access to the festival for the entire weekend; Friday evening and both Saturday and Sunday afternoons. Additional tokens were available for purchase at the beer festival. There were over 25 breweries pouring well over 60 different beers at Strange Brew Fest this year, including a few local cideries in the mix.
Friday evening was packed more so than previous years, another nod to this festival's ever-growing attendance. The Will-Call line took longer to check people in than if you had purchased tickets at the door and several people voiced their opinions on the matter in line. The American Legion Hall was alive with craft beer aficionados, ever-pouring taps, and live music on the stage. Not every brewery listed was on-site on Friday, nor could they have all fit into the small venue. There was one food vendor Friday evening, braving the cold outside and selling two varieties of pizza. One type was aptly named Strange Pizza and contained bacon, sausage, and apples on a wood-fired crust that paired quite nicely with many of the lighter beers. A new addition this year were the two large tents outside, filled with numerous chairs on Friday.
Saturday was brimming with attendees shortly after the festival opened at 1pm. The outdoor tents were now being used for more brewery booths, Strange Brew merchandise, and some seating. Breweries who were not present on Friday were now in full swing, including Elk Head (2012's Strange Brew Winner), Redhook, Fish, Fremont and many others. On top of the outdoor tents being a new addition this year, the festival also closed off part of Water Street for the expansion of Strange Brew. The additional breweries, seating, and standing room is what previous Strange Brew Fests' were sorely lacking. Previous years of this beer festival have proved it has out-grown the tiny American Legion Hall that hosts it. With roughly 2,400 attendees over the course of three days, it is easy to see why Strange Brew Fest desperately needed to expand, even with the extra space outdoors the tents were still elbow-to-elbow people.
The live entertainment at Strange Brew Fest always proves to be unique, upbeat and able to get attendees dancing. The Polyrhythmics were back again this year along with Eldridge Gravy & The Court Supreme. New acts this year were LoWire, The Better Half, Yogoman Burning Band, and Tapwater. Like previous years, there was also chainsaw carving and belly dancing with a new addition of a street performer this year.
Attendees are encouraged to dress up in costume and Saturday there were handfuls of people who did. There is no rhyme or reason to some costumes; some wore neon wigs or dressed like pirates while others collaborated for a six-person team of Drunks that would have made Dr. Seuss proud.
There were many notable beers throughout the festival, here is a handful we were highly impressed with: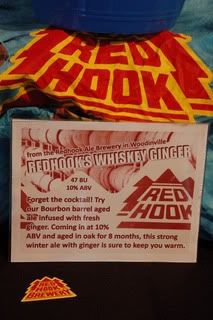 Paradise Punch by Elk Head Brewing. Paradise Punch was – as the name implies – quite a tropical fruit beer. The ale was reminiscent of childhood Hawaiian Punch, just in adult form.
Caramel Macchiato by Wingman Brewing. This was another sweet beer but with heavy coffee tones and a creamy texture. You almost could have guessed Starbucks brewed up this concoction.
Whiskey Ginger by Redhook Brewing. This beer really brought Redhook to whole a new level, they easily could have brought their Double Black stout (made with local coffee) but instead brewed something unique for Strange Brew. Whiskey Ginger had a crisp, ginger profile with light hints of oak and vanilla towards the end.
Good Shit by Fish Brewing. Both of the unique beers Fish Brewing brought were phenomenal and lived up to Strange Brew standards. Good Shit is made with Kopi Luwak coffee beans that were previously digested and defecated by the mammal civets. The beer had a strong coffee flavor and was very rich.
Positive Drug Test by Fish Brewing. Fish's Positive Drug Test was also referred to as the "poppyseed muffin beer". This blonde ale had light citrus notes up front and a cake-like aftertaste.
Beeritos by Bainbridge Island Brewing. While this beer was not one to spend multiple valuable tokens on, it is definitely one you must try. The first whiff of Beeritos gives off a strong marijuana scent but upon drinking it you soon realize why it is named Beeritos. Bainbridge Island Brewing has found a way to liquify Cool Ranch Doritos into alcoholic form. It had a distinct corn chip flavor to it with the ranch and dill notes following.
One of the few disappointments was newly re-vamped 192 Brewing's selection. They brought their Kenmore Scottish Ale and their Hop'n Mad Red, of which the latter was extremely cloudy and tasted very burnt and bitter. Another disappointment was seeing the same beers that we tasted in previous years or at other festivals, including Big Al's Nut Warmer, Flyers' Jameson Irish Stout, and Elysian's Torrent (which is part of their Apocalypse series). The biggest let down was Hopworks Urban Brewing (HUB) bringing their regular IPA and Abominable Winter Ale to an event called Strange Brew Fest.
This was the first year that the new Port Townsend bottle shop Pourhouse has been open during the busy festival; last year it had opened the weekend following Strange Brew. The bottle shop had quite an array of fantastic beers on tap throughout the entire weekend and were offering a special discount to people wearing their Strange Brew Fest wristband. Another local business offering a Strange Brew Fest discount was Finn River Cider, you received a free tasting of their ciders and a percent off if you purchased something at their Tasting Room.
For more photos from Strange Brew Fest 2013, visit the Brewed For Thought Facebook page.
People's Choice Winners:
1st: Elk Head Brewing
2nd: 7 Seas Brewing
3rd: Sound Brewing
The winner for Strangest Brew (highest number of votes for one specific beer) went to Nut Warmer by Big Al Brewing, a peanut butter dark ale.