Seems like all the Beer of the Week postings have something to do with what's going on in the industry as well as a historical perspective. This week is no different. It was this week that New Belgium announced that they were 100% employee owned. The first brewery that comes to mind when discussing employee-owned companies is Full Sail of Hood River, Oregon. Employee-owned since 1999, Full Sail gets the honor as this week's selection. The Beer of the Week is Full Sail Brewing Company's Brewer's Share Weizen Bock.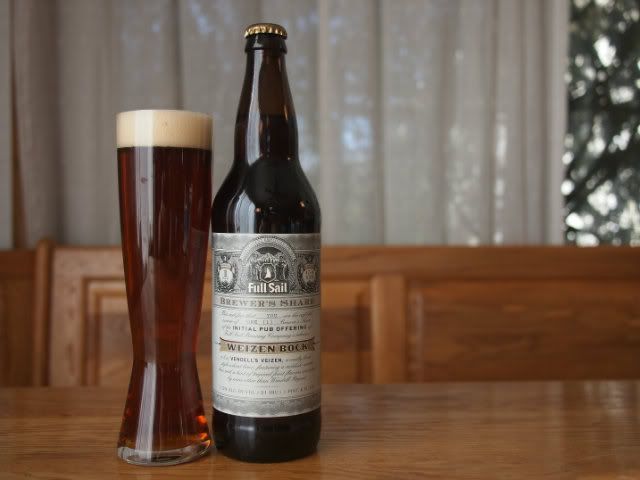 Full Sail Brewing Company Celebrates its Employee Owners with a New Brewer's Share Beer Introducing Vendell Veizen Weizen Bock

Hood River, Or – Full Sail Brewing is proud to announce the release of a new beer in their Brewer's Share Series – Vendell Veizen Weizen Bock, developed by Assistant Packaging Supervisor Wendell Bryant. In 2008 Full Sail Brewing created their small batch Brewer's Share series as an opportunity for each of their individual brewers to express their creations to be shared on tap exclusively in their pub. Since their crew came up with so many great beers, they decided to share a selection of them with beer lovers everywhere. The beer will be released in 22oz. bottles and on draft in January.

"As an independent and employee owned brewery, you know that we put our hearts and souls into every drop. With Brewer's Share we're proud to showcase the people behind our award winning brews by introducing our individual brewers by name and beer," said Irene Firmat, Full Sail's CEO and Founder.

This is a new addition to our Brewer's Share bottle line-up brewed by Wendell Bryant, our Assistant Packaging Supervisor. Wendell is an accomplished home brewer who loves to share his creations with friends. We were so impressed with his Weizen Bock recipe, we let him loose in the brewhouse to work his magic on a supersize scale. Congrats, Wendell: looks like your circle of friends just increased by 100 fold. Wendell enjoys German style biers, is a big bock fan and likes malty beers, so he decided to make a Weizen Bock. Vendell Veizen is a bock style wheat bier, that is reddish amber in color and has tropical fruit flavors with a slight malt sweetness. "It's got a good amount of body and flavor," says Wendell. ABV 7.2% IBU 21.

The inspiration for the name "Brewer's Share" came from that mysterious portion that vanishes from a barrel during aging that brewers refer to as the "angel's share," and that led to "Brewer's Share," an equally mysterious offering that appears during inspiration. Brewer's Share can also mean a unit of ownership, as in stock. Consider this program to be an Initial Pub Offering (IPO). Whenever you purchase a Brewer's Share you get a unit of ownership – one share of the batch. As a shareholder you have the right to consume the beverage. In doing so you will also be investing in the public good – as each brewer not only chooses the recipe, they choose a local charity or organization that will benefit from each bottle sold – Which can bring an excellent return on ingestion (ROI).

With each Brewer's Share series beer, Full Sail picks a local charity or organization to receive a portion of the proceeds from the sale of the beer. Wendell has chosen to support the OHSU Knight Cancer Institute with his Brewer's Share. OHSU Knight Cancer Institute is known worldwide for our contributions to the fight against cancer.

Full Sail's Brewer's Share small batch offerings will be available in 22oz. bottles and on draft. The other beers in the 2013 line-up include Phil's Existential Alt, Chris's Summer Delight and Big Daddy J's Malt Liquor. Full Sail will release one Brewer's Share at a time and a new beer will be released for each season.
Before even opening the bottle, I have to admit, I'm in love with the packaging. The label is silky smooth and feels amazing in the hand. Additionally, the label design draws you in. The design is reminiscent of US currency and I find myself searching for more details.
In the glass, Vendell's Veizen pours a crystal clear amber with a white head atop. Alcohol mixes with the sweetness of the malt for a preview of the strong lager's flavor. A touch of hop bitterness greets the front of the tongue but is quickly washed away. Malt sweetness in the form of fruitcake and nutty caramel slide over the tongue without being too heavy. The finish leaves a kiss of sweetness mingling with the grassy hops and a burn of alcohol.
Full of flavor and not the predictable hop bomb many breweries would release, Full Sail's Brewer's Share Weizen Bock is a tasty treat for lager lover and for beer geeks looking for something different. I also like that this is a lager special release from a brewery that is curently best known for their Session lager line.
Grab bottles of Vedell's Veizen while they are out there and do so knowing you're helping a good cause with the portion of the Brewer's Share going to OHSU Knight Cancer Institute.