The history of beer is long, as long as civilization itself some may claim. On the contrary, the history of craft brewing is relatively young. The beginning of craft brewing can be debated. Was it when Fritz Maytag purchased Anchor Brewing? Maybe when New Albion started brewing beer in Sonoma. While its hard to argue that the following date began craft brewing but it was significant that's to be sure. In 1983, Mendocino Brewing opened their Hopland brewery and became tye first brewpub to open since the end of prohibition. In honor of 30 years of Mendocino Brewing, the Beer of the Week is Mendocino Brewing's Talon Extra Select Double IPA.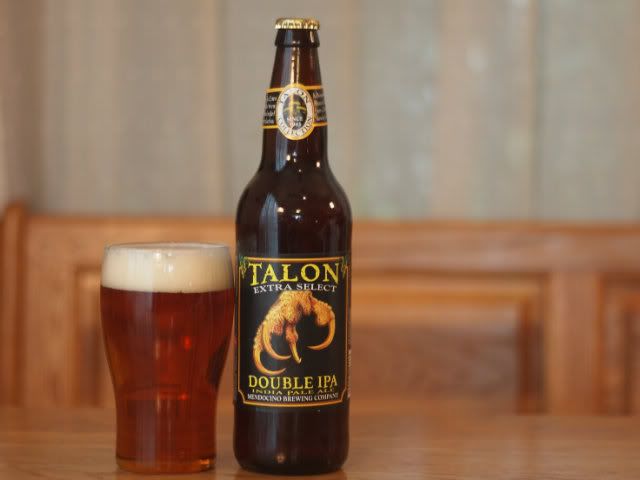 [Talon], which will be made available in 22 oz. bottles and draft, is different from the previously released Imperial IPA. This recipe features five malts and six hops while hitting 10% ABV and 100 IBUs.

Malts: Specialty 2 Row, Wheat, Munich, Vienna, CaraMunich 40
Hops: Warrior, Cascade, Amarillo, Summit, Pilgrim, Centennial
Dry Hop: Amarillo, Summit, Simcoe

This new imperial series of beers will be released with the 'Talon' branding previously used on the company's barleywine. The existing imperial series of beers will still be made available in 4-packs and on draft.

From BeerPulse..com
The aroma on Talon definitely jumps out at you. Piney and resinous, there's a malt foundation that provides a bit of sweetness and a cake-like impression. The golden body is crystal clear with a frothy white head sitting on top. The hops bite the tongue with the first sip with a roller coaster ride through malt backbone and back into pine driven American hops. At 10% this is no session IPA but also doesn't come across as a beer with such potency. Talon finishes clean with a slight linger to the hop bitterness.
Talon is definitely not a beer that would have been on tap in 1983. That said, it does speak to a brewery who has maintained their presence as part of the craft brewing scene for the past 30 years. With the actual anniversary coming in August, look for special releases and plenty of celebrating to be coming out of Mendocino County.