Some winters, the barrage of spiced beers can be a bit exhausting. At those times, you just want a clean, crisp beer that warms you to the bone and helps you shake the chills of winter. Stoke the fire and settle for this beer from New York City. The Beer of the Week is Sixpoint Craft Ales' Diesel.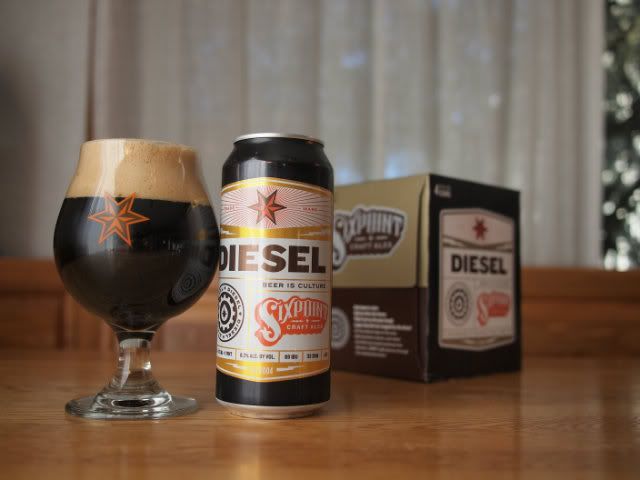 American Stout, full-bodied, roasted, and highly hopped.

Each dawn is clear. Cold air bites the throat. Thick frost on the pine bough. Leaps from the tree snapped by the diesel. On the darkest days of the year, light becomes a luxury. Just when you think you cannot penetrate the darkness… SNAP! Light pierces through the roasted pine forest.
Diesel pours a translucent brown with black edges. On the top sits a frothy head reminiscent of being served a hot latte. A big roasted chocolate greeting on the tongue is followed by a sharp, bristly, pine-like bitterness. Lingering roasted malts come to life as your tongue moves around inside your mouth: coffee, cocoa nibs, and charcoal. With warmth, the subtle sweetness found in the malt emerges. Diesel is very hoppy for a stout but restrained as far as alcohol content.
Skip the spice this week and grab a beer that's brewed to keep you warm. While not an imperial stout by today's standards, the intense hopping makes Diesel a winter treat worthy of waiting for.
While we talk about the beers of New York City, let us not forget that there are still many suffering the from the effects of Sandy. If you can't find any Sixpoint to satisfy your beer desires, consider donating that six-pack worth of dollars to the Sandy relief effort of your choice.