The 8th annual Winter Beer Fest took place at Hale's Palladium in the Ballard neighborhood of Seattle, WA. This festival is put on by the folks at the Washington Beer Commission, and their community of Washington Beer Lovers (WABL). All proceeds from this beer festival benefit the Washington Beer Commission and its ongoing mission to support our state's craft beer scene.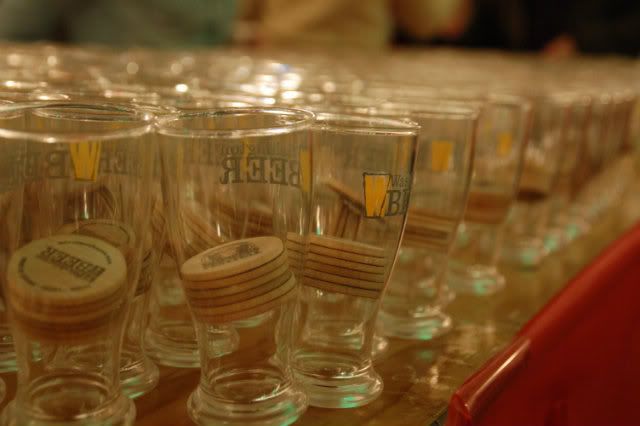 Tickets were $25 advanced and $30 day of along with $5 designated driver at the door only. Advanced tickets sold out for the event and there were very limited tickets available at the door for each session. This event typically sells out every year, with good reason. The festival boasted 32 brewers with an impressive 79 beers listed. Each attendee was given a tasting cup and six tokens good for a 5 oz. beer sample, with the option to purchase more tokens at a $1.50 each.
Coming to a Winter Beer festival on a Friday evening in December can be a tad rough, especially when there is a line that is 60+ people deep waiting to get in. One of the challenges was that it was one single line, then as you got closer to the front you found out there should have been two lines; one line for advanced tickets and one line for those who still had to buy tickets. In previous years, like last year, there was a staff member that began checking I.D.'s and giving out wristbands prior to the event opening up to alleviate the long wait time, but not this year (at least to our knowledge, being in the back of the line). This created a large bottleneck and confusion trying to get in, but once people were inside they grabbed their tokens and forgot about it. Throughout the evening there was nothing but smiles and ear-to-ear grins inside the Palladium, despite how crowded it was.
The Palladium was, like previous years, elbow-to-elbow people. There's a point when you give up being polite and saying "Excuse me" to every single person and just start making a bee-line to the next booth. You also learn to accept the fact that you will lose – and spill – some beer because it is inevitable that someone will run into you while you are en-route to your safety spot to drink. These are life lessons you learn when you attend numerous beer festivals, especially festivals that are indoors. Washington Beer Commission told us that Friday's evening session saw 541 people and Saturday's all day session saw 1,141 people.
At the Friday evening session there was no sign of Tacoma's Wingman Brewers, who many were hoping to try their Sour Bourbon Cherry Stout and Rye Barleywine, although they did make an appearance on Saturday. Sours are a hard one to come by in Washington state and when a brewery decides to make one people are expected to flock to them in anticipation.
A must-try for WABL festival attendees was the RAM Brewery's Ol'MallWABLer which was brewed specifically for the event. Lots of toffee and caramel notes came off of this one. Another unique release was Hood Canal's Zelatched Point Ale. This beer was a blend of their Dabob Bay IPA and Breidablik Barleywine. While a boozy nose was almost overpowering, the beer was overall fantastic with great toasted barley notes.
If you were in search of barrel-aged beers this event had you covered with over 10 different barrel-aged brews being poured. Boundary Bay's Old Bounder Barleywine was a hit among attendees, this beer was aged in Dry Fly whiskey barrels for nine months and you pick up the bourbon, oak, vanilla, and caramel notes upon tasting. At most festivals people endure a extremely long line to get a sample of Black Raven's beers, and Winter Beer Fest was no exception especially since they brought their Bourbon Barrel La Petite Mort. La Petite Mort is only brewed once a year on Bastille Day and always sells out quickly. There were two beers on tap at Winter Beer Fest that were wine-aged beers, Hale's introduced their Merlot Wit that was quite tart, and Icicle's Fist Full of Quarters Porter that was aged in cabernet sauvignon barrels. They both stood out from the typical bourbon aged beers with each being light and dry all their own.
In the spirit of the season, stouts and strong ales were everywhere. Port Townsend's Death Don't Have No Mercy imperial scotch ale was just as the event pamphlet described, "exceptionally strong". The scotch ale had a strong malt profile along with sweetness that won you over. Redhook brought their newly released Double Black stout that is brewed with Seattle's Caffe Vita coffee, the beer had a very strong coffee flavor and mellowed out with chocolate notes. Big Time Brewing were enticing people with their Breakfast Cereal Killer Imperial Oatmeal Stout, which is released every year on Black Friday. The stout is made up of six different breakfast cereals blended with a dark, rich oatmeal stout. It really is breakfast in a glass.
Despite the name of Winter Beer Fest, there were quite a few fruit-forward beers on tap including a peach Holiday Hefeweizen, a Spiced Apple Cider, and a Blueberry-Catnip pale ale. These brews were welcomed with open arms among a sea of heavy and dark winter warmers.
What better way to end a festival than with some desserts from the taps including the Chocolate Mint stout by Airways, the Dark Persuasion German Chocolate ale by Icicle, or the Mocha Death by Iron Horse, which was bursting with cocoa and espresso in their flagship Irish Death ale. Combine any of these with the Theo chocolates and you got yourself a meal.
Theo Chocolates was back this year giving out samples of some of their best beer-pairing chocolates, such as: Coconut Curry, Gingerbread, Coffee, Nutcracker Toffee, Chile, and Orange. There also was fresh oysters provided by Taylor Shellfish Farms, fried peanuts, and other items to nibble on. The chocolate and oyster beer pairings were delightful and something that would be uncommon outside of the Pacific Northwest, but we are spoiled with fresh seafood access.
WABL's next scheduled festival is their annual Belgian Fest located at bell Harbor International Conference Center on February 2, 2013. There will be two different sessions on that day: 12pm-4pm and 5:30pm-9:30pm.
See more pictures at the Brewed For Thought Facebook Page. Be sure to "Like" Brewed For Thought to stay on top of all the articles, news and photos from around the beer world. Keep reading below for the winners of the People's Choice awards from the weekend.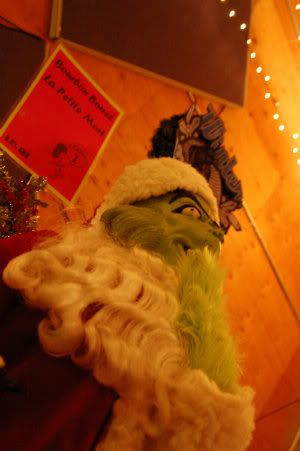 The winners of the People's Choice awards are as follows:
Friday Session –
1st: Dark persuasion German Chocolate Ale by Icicle Brewing
2nd: Bourbon Abominable Ale by Fremont Brewing
3rd: The Kentucky Dude by Naked City Brewing
Saturday Session –
1st: Holiday Hefeweizen by Laht Neppur Brewing
2nd: The Kentucky Dude by Naked City Brewing
3rd: Imperial Rye by Reuben's Brew
The winner of the Best Booth Decoration was awarded to Black Raven Brewing and their terrifying Grinch.