Hurricane Sandy walloped the tri state area just a few short weeks ago. I was trapped at work mainly helping to carry diesel canisters up several flights of stairs to keep a broadcast facility operational, at the same time my wife sat at home in the dark. When I finally got out of the hotel work had provided and got picked up in Manhattan for my first meal I ended up at, of course, a beer oriented bar in midtown. That place was jumping that night, but then I got home to an apartment with no electricity. When the electricity finally returned, I was sort of living in a bubble, so concerned with what I had been through that I hadn't actually seen what others were facing. I quickly caught up on the news and realized I was even luckier then I had thought. When I returned to work two more days later, again my lights went out, but I had started to really focus on the ignored suffering that was happening just a few neighborhoods away on Staten Island, where I live. Even without power, my wife and I set out to try and help at an Evacuation Center and a Base Camp. It was amazing to see the local average person helping their neighbors. The shocking realization that your neighbors truly are your last line of defense in this situation was surreal. 
As the NYC Craft Beer Festival: Winter Harvest also had a Sandy Relief component to it, I wanted to put my experience with the storm into context first. When I arrived at Basketball City, Pier 36 those two titles of the venue didn't hit me as to where I was exactly going. I expected wide ranging basketball courts with typical beer booths set up along the water. Hello. The courts were pretty much completely destroyed due to their proximity to that very water. In fact, there was no trace of any wood flooring, it had all been taken up. It didn't even occur to me that I wasn't in a convention center style facility until I looked up and saw the basketball hoops in the upright position. Most of the sheet rock was cut off the walls and remaining hall ways up to a water line, which was at least knee high. It was all an instant reminder of the devastation that was out there and how much it not only destroyed the lives of the delicate, but the cornerstones of the strong: our infrastructure.
That said, while it was a stark place to have a large scale beer tasting it was also very stable and inviting. Some supplies were raised for Sandy victims out in Breezy Point that will go directly to them, which is always terrific to see. I arrived for the early session (of the 2 that day) and was one of the first to get in. There were so many breweries there that I was almost overwhelmed. Where to start? I  started from one end and went to the other, likely trying about 40 to 50 percent of what was in the building. Eh, maybe I'm being a little modest.
I guess I'll start with some of the more disappointing aspects of the event before I get into the highlights. There really weren't any food pairings outside of the seminars being held, not even small things like the cheese or pulled pork that these kind of events typically feature. I'm not asking for much, but considering the scale of the event I felt like some food should have been provided just due to the sheer amount of time you would have to stay there to try a considerable amount of the beers offered. I folded at one point and gave in to the chicken fingers and fries that were on sale, they were good though. I'm also always disappointed when the beer stations are staffed by volunteers as opposed to reps from the companies as this one was. In some cases, such as Ommegang and Sixpoint, I was able to find pretty knowledgable pourers. At many others I wasn't able to get answers to basic questions like "Is this available bottled as well as on taps in bars?" This is something that's more endemic of these sorts of bigger events lately in New York City and not specific to this one. I don't mind volunteers being around, but I actually like to talk to people from the company as I sample their beer, nobody can explain it better then a brewer, owner or marketing person that represents the brand.
The highlights stem from the super positive energy from the crowd of tasters. Mostly younger, but not frat house young either. I heard many exuberant conversations as I walked around about particular beers that were either in the building or not. There were also lots of couples there enjoying beer together. It was a great break from the crowds to go out on the deck and enjoy a beer outside. The deck in the back of Pier 36 featured views of Brooklyn and stunning up close looks of the Manhattan and Brooklyn Bridges. It was welcomely quiet and relaxing at such a full event like that. Even as a New Yorker, certain views and vantage points can still be unique to me and amaze.
I was really excited to see Unibroue represented with both Fin Du Monde and Trois Pistoles. While Trois was better suited for the event and time of year, I had to get my Fin on. That's still my favorite beer on the planet. I even asked if they were selling the tins that were on the table. I was politely told no, but that if I was around at the end of the night they might be able to slip them to me. I'm a big fan, but not 12-hours-big so I passed.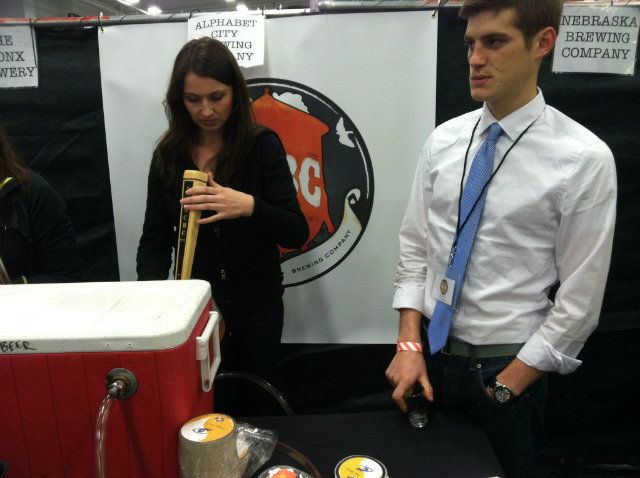 One of my new favorites, House of Shandy and their Tenacious Traveler was in this house as well. I learned the year round Shandy brands were a collaboration between Magic Hat and Sam Adams, which I wasn't previously aware of. I was also happy to see Easy Blonde from the Alphabet City Brewing Company. They had a small sliver of a table, but I was able to track them down along with many other attendees. ACBC is a small craft brewer from the Lower East Side in Manhattan, I discovered them in a local bar in that area and have been a fan ever since. The best way to describe it is to call it a Blonde with hops along the lines of an IPA. They describe it as an American interpretation of a German Kolsch. All I can say is, I've encountered it in two places now and they've been a hit in both. These guys are really just starting out, so I wanted to make sure I gave them the love they deserve here considering they were among much heavier hitters at this venue and more than held their own.
I also got to meet one of the founders at Untappd, Greg Avola, who had a booth at the event. For those unfamiliar, Untappd is a beer check in site, sort of like Foursquare is for locations, but it actually has useful information on it. You collect badges and friends and learn a lot about beer there. I'm a huge fan of the app and it was great to talk a little about their beginnings and what their building towards. He didn't get too specific with me but he did refer to me as an "early adopter", so that was cool.
At the end of the day though, I attend these Festivals for beers that I've never tried before and to that extent there were two far and away winners. Ommegang's Scythe & Sickle Harvest Ale was immediately popular in the venue. Ommegang was on my list of must stops, but it still pleased me to find one of the longest lines at their booth. They also had their mainline Abbey Ale on hand, but for me trying Scythe was a higher priority. I love it when a brewery is able to have similar characteristics in all of their beers but every one of those beers tastes very differently some how. I guess this is the standard for a breweries success, but Ommegang clearly hits it. It tasted immediately like an "Ommegang", but had hints of citrus and rye to it.
The other big winner was Empire's fairly new creation, White Aphro. This goes back to my roots with witte beers, but adds a totally different twist. Imagine if you could drink a Blue Moon that wasn't heavy and buttery but was almost as sweet with actual refinement in it's profile like a craft? That's a laymen's description of White Aphro. That's without noting how very different White Aphro is from anything I've ever had before. It had a strong kick of lemon/lime but hits you just before the aftertaste. It's sort of the R.A. Dickey of beer, it was sly and full of trickery. I think it's refreshing quality combined with it's sweet witte flavor is unmatched. This is a game changer. The only draw back to a witte is that they can be a bit heavy. There have been times in drinking witte beers where I felt like I'd eaten a loaf of white bread, I couldn't imagine that with White Aphro. I got a short amount of time with one of Empire's marketing guys and it seemed like this product was one that was really helping them in the market place and that it was getting a great response. I'd always respected Empire's offerings at these festivals, now I'll be looking for them in particular.
As the sun started to set while I made my exit, it was all a touch bittersweet. It was great to see beer being celebrated and life getting back to semi-normal. It was also great to see efforts still being made for Sandy. At the same time, it was haunting to see the pile of muck off in the distant parking lot, still yet to be broken down and the smaller piles of similar muck from other buildings along South Street all along the trip back to the FDR Drive.
Good beer does make everything at least a little bit better though.
See more pictures at the Brewed For Thought Facebook Page. Be sure to "Like" Brewed For Thought to stay on top of all the articles, news and photos from around the beer world