While the winter festival scene can be a bit quiet, there's always one major event worth checking out. BevMo's Holiday Beerfest showcases all the beer you'll find on BevMo shelves through the winter and is a great opportunity to try those beers before stocking up for Thanksgiving and Holiday parties.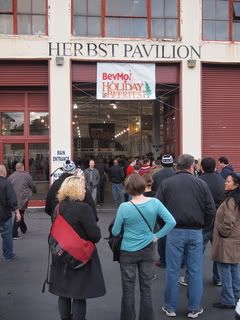 The festival takes place in the Herbst Pavillion in Fort Mason, overhanging the San Francisco Bay. Breweries line the walls and fill two islands in the middle of the room. Food and entertainment are in the far back where you get some redundancy in beer selection as a mish-mash of breweries are poured from bottles by even volunteers.
Beer selections were impressive all around. Many breweries featured their flagships but also brought at least one surprise to go with any holiday releases. Of the holiday beers, I found myself drawn to old favorites that set such a high bar that it's hard to resists. Leading the was was Dupont's Avec les Bons Voeux. Such a tasty, spicy and decadent beer that it will always be one of my firsts for the holidays. Others that impressed were Shmaltz' Sweet Sixteen, Telegraph's Winter Ale and Deschutes' Jubelale.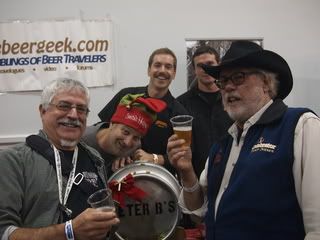 While holiday beers were the theme of the night, they weren't the only beers in attendance. PEter B's of Monterey had a firkin IPA that generated a lot of talk. Sierra Nevada's Narwhal Imperial Stout was also popular as people were able to taste it for the first time.
In general, the festival had everyone in high spirits with lots of festive wear and holiday cheer in the air. The BevMo Holiday Beerfest does a great job of putting people in the right frame of mind heading towards the end of the year. See for yourself by browsing the images on the Brewed For Thought Facebook page. Be sure to tag yourself and your friends if you were in attendance.