This past Thursday marked the second Coast to Coast Toast put on by Vanberg & DeWulf. Pubs around the country participated in a unified toast, raising their favorite beer brought to the states by the historic importer. With Thanksgiving also around the corner I wanted a beer that would honor the nationwide toast as well as fit in on the holiday table. The Beer of the Week is Posca Rustica.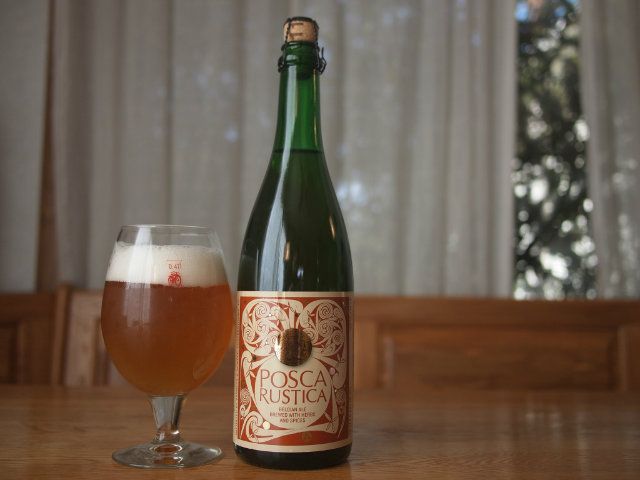 Since 1983, Dupont has produced a beer especially for a Gallo-Roman site near the brewery where Stone Age life is interpreted, the Archeosite d'Aubechies.

Known as Cervesia in Belgium this beer is a throwback inspired by research into the drinks of the Gallo-Roman era. It is surely one of the brewery's most exotic beers. It is a "Cervoise" beer spiced with a gruit (an old-fashioned herb mixture used to bitter and flavor beer, that was popular before hops came to predominate). Posca Rustica beer is highly, if delicately, spiced. Sweet woodruff (known as Galium odoratum or wild baby's breath) and bog myrtle are but two of about a dozen spices used. Posca Rustica has a unique, odiferous and spicy character. Bottle conditioned. Beguiling and unusual. Discover what beer tasted like when Belgium was ruled by the Roman Empire.
Posca Rustica pours a hazy golden amber with a frothy white head. The aroma is yeast driven but contains hints of the spices and herbs used for bittering. Flavors of ripe apple and pear wash over the tongue with a spiciness from the yeast and alcohol. Bittered with traditional herbs and spices, without reading the label you might mistake this for  a standard saison or French farmhouse ale. The finish is yeasty and spicy with no lingering bitterness.
Posca Rustica makes for an excellent beer to have with food. Grab a bottle and pop the cork before the feast as the yeast driven flavors will pair well with you pre-feast cheeses and many gameday snacks. While enjoying a glass for Thanksgiving also raise a toast to the fine work of Vanberg & DeWulf for the past 31 years.