Every other Thursday, Brewed for Thought and BetterBeerBlog are teaming up for a piece called Hopinions. We will alternate who picks the topic and trade emails on the subject, two apiece. This week, I'm wondering Peter has to think about Boston beer Company's Jim Koch and his comments about popping bubbles? 
From Mario at Brewed For Thought: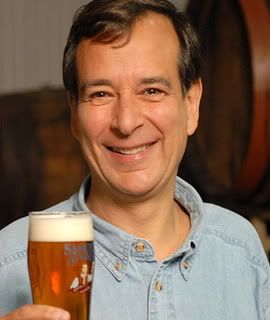 Recently, Jim Koch of Boston Beer Company sat down for an interview with Enterprise News. While the topic of the article was mostly Utopias and where the Sam Adams brand will be going in the future, the beer loving internet has been alive thanks to his comments about the market as a whole
He also spoke about the craft beer bubble being near a popping point. He thinks the market share could grow to 10 percent by the end of the decade, but he thinks that most stores have reached their limit for all the new breweries. He said there are too many breweries brewing similar beers without adding anything to the market. An exception he pointed out was Enlightenment Ales out of Lowell, which is adding something no one is doing, he said.
I have a few issues with this paragraph. The first revolves around the idea of the craft beer market being over-saturated and nearing a "popping point." The second has to do with his praise heaped on Enlightenment Ales.
First, the idea of too many breweries brewing the same style of beer is ridiculous. When Boston Beer company came into existence there were too many breweries brewing the same style of beer, industrial lager. That didn't stop them from making Boston Lager. While the average consumer might not know the difference between a Lagunitas IPA and a Racer 5, they do understand that different companies make products in the same flavor that taste differently. Has the market for root beer collapsed because there are too many soda companies making root beer? Can the mustard industry survive? What about milk chocolate?
As for Enlightenment Ales, I am sure this brewery is doing interesting things, but let's not pretend like they are doing anything original or unique. Champagne-style beers are already available on the market. Whether it's Deus, Malheur or Scaldis Prestige de Nuits (not to mention other small batch releases from nano brewers around the country and globe) the style has been around for quite some time. Yet Koch calls them out by name. Has he not been able to make it into Vermont to try Hill Farmstead? Does Allagash's commitment to Belgian styles and barrel-aging bore him? These breweries are a short distance from his base in Boston and I can't imagine they would be all that hard to find. Does Koch really think the only innovation in brewing is a copy-cat style of winemakers?
What do you think Peter? Will the bubble burst? If so why? Why not? Is lack of innovation a factor or do you disagree with that statement as well?
From Peter at BetterBeerBlog:
I saw this article and thought to myself, "This would make a pretty good Hopinions topic". Then I woke up this morning to see and email from you, lo and behold, it is a Hopinions topic! Getting back to the questions at hand.
I think Koch has some valid points in his statements. This is, after all, an industry veteran who has a viewpoint on the craft beer industry that very few have. Anything he says, controversial or not, is worth at least a moment's pause.
Let's start with your first point regarding craft brewing's eventual "popping point". I don't necessarily think Koch is saying that the bottom of the craft beer industry will suddenly drop out from beneath our feet. I think what he is saying is that the retail market has a finite amount of shelf space and there isn't enough seats at the table for everyone. Same can be said about the distribution end of the business. If that is what Koch is saying, then I happen to agree with him.
Living here in the SF Bay Area has afforded us certain luxuries, such as craft beer specific retail outlets. Depending on what stores we visit, we can usually find a wide variety of craft beers from all over the area and the country. But for those of us who don't have such conveniences and have to rely on a national grocery chain to supply our craft beer needs, the "popping point" is certainly encroaching upon us sooner than later. There's only so many brands that Safeway, Lucky's, or even a Whole Foods can carry. The end result is that many of the little guys will be left out of the party.
On the distribution side of things, I think it's going to be a similar issue. Not only do they have a finite amount of space in their warehouses to store craft beer, they also have to contend with resource constraints. Their sales people will focus on what gets them the most commissions. The unfortunate side effect will be that smaller craft beer brands will not receive the same amount of attention/service as larger breweries.
Fortunately, this situation leaves opportunity on the table. Instead of focusing on national craft beer brands, craft beer retailers can instead focus on breweries that are local to them. When I first started to taking beer seriously, I would joke that every bar in San Jose had the same 7 taps. Now I'm starting to see something similar happening, but with craft beer brands. Let's see a little local love.
Regarding your second point, I don't think that it's a ridiculous notion to think that too many breweries are brewing the same style of beer because it's true. It seems that the vast majority of craft breweries brew IPA, Pale Ale, Strong Pale Ale, or some combination thereof. The only reason we don't see the same sort of fragmentation in light lagers and chocolate milk is because all the smaller producers have been bought out, or put out of business, by larger producers.
That said, I don't think this is a bad thing. Unlike light lagers, there is no homogenousness in the aforementioned styles. All this variety ends up being a showcase for regionality in a particular style, as well as demonstrating the brewer's skill in crafting those styles.
I think what Koch may be pointing to is what he sees is a stagnation in creativity in the craft beer industry. Are champagne style beers a new thing? Not really, I first learned about this a few years ago at the National Homebrew Conference in Oakland, but all the examples you pointed out for champagne style beers are the exclusion to the norm, if not the totality of producers.
In my opinion, the largest areas of growth and experimentation for craft breweries lie in barrel aged beers and sour beers. In both cases, there is a real… unknown… that permeates the process. Brewing in stainless steel and with cultured yeast strains has taken out the risk factor in most breweries. Three cheers for that as we can enjoy the fruits of predictability and repeatability. But I think there's just something about barrel aging, or souring a beer, that really piques the interests of craft brewers as they just don't know if things will turn our right.
To a lesser degree, I think champagne style beers have a similar type of risk. As I understand it, "champagne" style beer really refers to a carbonation process as opposed to an entirely new style of craft beer. You could apply this carbonation process to any style of beer, theoretically, and call it champagne. That said, I don't see what kind of innovations Koch feels this will give to the industry. Unless of course Koch is trying to remind everyone of Infinium without actually saying it.
From Mario at Brewed For Thought:
The problem I guess lies with the use of the term bubble. A bubble is overly inflated and at the point of popping, you're left with nothing. Is the craft beer industry facing a catastrophe? I don't believe so.
I would say the craft beer market has a plateau in its future where growth slows and there is more competition for shelf and tap space. What factors would chase new found craft beer drinkers back to macro lagers if the recent economic situation hasn't? Also, thanks to places like Portland, San Francisco and Seattle, we have examples of places where the national craft beer consumption figures are exceeded and proof that this can be sustained.
I think your point about regional IPAs is another thing Koch doesn't quite get. While he refers to West Coast IPA and why Boston beer won't be brewing one, I don't think he fully understands the art of using an ever expanding palette of hops which brewers have begun to use.
Why would Lagunitas brew IPA, Maximus and Hop Stoopid if an IPA is an IPA is an IPA? Sure, there is varying intensifies across these three beers, but there's also a different hop impact. Are the hops citrusy, tropical, resinous? Is the beer light bodied, heavy or seemingly thick with hops?
The casual beer fan will not know this answer at first, but curiosity drove them to the craft beer aisle once upon a time and that curiosity will drive them go try a second IPA from the same brewery, not scare them away.
Do you see a scenario where there is a true pop of the bubble? Do you anticipate a contraction of the industry? Where will our beers go next to attract new drinkers? Is an IPA the final hook?
From Peter at BetterBeerBlog:
Couldn't agree with you more regarding the misuse of a term. It is misleading and a big part of why I think there was such a reaction to his statements. I don't for one second believe the craft beer industry "bubble" will burst. Scratch that, let's stop using the term "bubble" because that's not accurate. I don't believe the craft beer industry will bottom out any time soon. It will take a catastrophic series of events for the industry to suffer a significant set back, such as a rise in poorly made craft beers and breweries looking to cash in on the latest fad.
Fortunately, craft beer isn't a fad. Just about everyone I've spoken to who has, or is in the process of, opening up a craft brewery is doing so because they have a passion for the product and the people behind it. Craft beer is a commodity but thankfully, the people who make it don't view it as such. That's what I think the real key the industry's success is.
Also working in favor of the craft beer industry is the knowledge base of its consumers. Craft beer drinkers are a savvy bunch of folk and are nearly as passionate about the beers they drink as the brewers who make them. This provides the ultimate check and balance as consumers will vote with their dollars as well as their taste buds.
I think it is inevitable that there will be a plateau in industry growth, followed by a contraction. What I think the industry can do to hold this at bay is to continue making great craft beer held to the highest standards. Innovation, in the form of new styles, is a key to continues success but so is continually educating consumers on what good craft beer is, and can be.
Where the next influx of craft beer drinkers is anyone's guess but if it were up to me, I'd be targeting other alcohol industries. I'd be looking at the fine spirit drinkers, the wine imbibers, the sake aficionados… anyone with a cultivated palate. These folks are already geared for the "good things" and would be willing to try craft beer. I'd probably stay away from fruity cocktail drinkers and light lager drinkers because they don't have the taste buds to enjoy something as it is, as well as being overly devoted to a brand, respectively.
Is IPA the final hook? For many, I think yes. I personally think that sour beers are the final frontier. Even though they're considered beers, their flavor profile is so wide right of what everyone's expectations are for beer that I think they pose a real challenge for acceptance. If you think about it, sour beers are perfectly good beers that have been allowed to go "bad". 50 years ago, sourness in beer meant that the brewer/brewery messed up and got their beers infected. Well, if the sour milk we call yogurt can be accepted, it's only a matter of time before sour beer does as well.