I have a soft spot in my heart for certain beers. When those beers get a facelift and are imperialized, doubled, aged in barrels, or whatever new twist the brewing community throws at us, I am usually very excited to try the result. This week's beer is no different. I was anxious to crack this bottle for weeks and now I finally get the chance. This week's Beer of the Week is Ale Industries Dueling Pipers.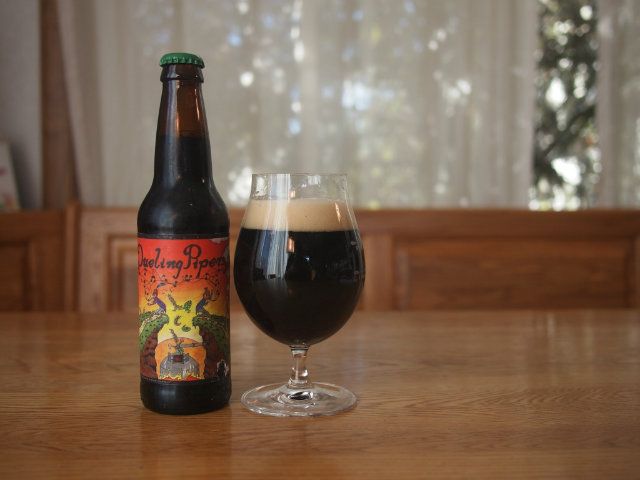 This limited, "Barrels & Uniquities" beer is an Imperial version of our Rye'd Piper. Big, Rye Whiskey barrel notes of cocoa and coconut. This one is big in every way, coming in at a solid 12.5% abv
The aroma starts with a rich malt base and hints of bourbon barrel on the top. Pitted fruits lead the way and give a fair preview of what this opaque deep brown beer has to hold. A cream colored head sit atop and slowly fades to nothing. Dark chocolate, figs, blueberry and wood bourbon barrels come together in one note on the palate, fading to a sharp alcohol burn in the finish. As you contemplate the next sip, the sweet flavors of the bourbon barrels creep from the corners of your mouth.
Dueling Pipers is a very nice beer with an intoxicating kick that I wouldn't have expected from such a sessionable base. What is impressive is that the main component of Rye'd Piper which I love so much shines through in equal intensity in Dueling Pipers. That characteristic is the chocolatey notes given off by the rye that makes the beer instantly familiar on the palate.
Dueling Pipers is a limited release but given the availability in bottles, I wouldn't be surprised to see this beer travel. Also available in draft, the Bay area will get first crack at this but expect keep an eye out to see how many kegs and bottles make it to more distant accounts.