This post is one week late. The reason for that is one week ago we were holding the Tears and Beers event at Taps in Petaluma. The event paired sauces inspired by the line of hot sauces from Heartbreaking Dawns. Seven sauces were paired with seven beers and served on chicken wings (is there a better way to enjoy a spicy flavorful sauce?). Here is just one of the sauces and comes from the mind of Abraham Asay, chef at Petaluma Taps.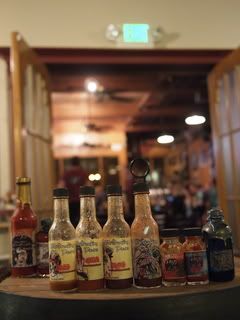 2 cups blueberry purée
1 can coconut milk
2 tbsp Sweet Chili sauce
2ea Dried Seven Pod Chilies or substitute dried habenero
1 tbsp of sugar
1 to 2 tbsp of Roux to thicken
Pinch of salt
Juice of 1 Meyer lemon
Incorporate the  blueberry purée, coconut milk, sweet chili sauce, 7 pod chilies, sugar, salt and meyer lemon juice in a Non-reactive sauce pan. Bring to a simmer on medium heat for 5 to 7 minutes. Discard the chilies. Add roux to thicken and  adjust with salt and sugar to taste. This recipe yields close to 3 cups of sauce.
This recipe was inspired by Heartbreaking Dawns' 1498 Trinidad Scorpion Sauce. Feel free to use the sweet and spicy sauce in place of the sweet chili sauce in the recipe. Heartbreaking Dawns' 1498 Cauterizer is also a suitable substitute for those looking for a more fiery experience. The difference in the two sauces is that the 1498 is a blend of Trinidad Scorpion and Habanero peppers while the Cauterizer is all Trinidad Scorpion.
For the dinner we paired this with Shmaltz Brewing's Reunion '12. This Imperial brown Ale aged with cocoa, vanilla and cinnamon is a perfect match for the sauce. The rich malts and cocoa play nicely with the blueberry base. The soft edges provide a bit of relief from the heat of the sauce without watering down the bold flavors present throughout.
While this sauce was first made for chicken wings, this can be used for many types of dishes. Try it on meatballs for a party snack or marinade chicken breasts for the grill. The sauce can be used on it's own to add some kick to any dish. How might you use this sauce?
Check out photos from Tears and Beers  on the Brewed For Thought Facebook page and keep an eye out for upcoming events at Taps as well as other Brewed For Thought events around Sonoma County.