Winter is coming. That means a slew of seasonal releases are coming down the pipe. In the Bay Area, we're lucky enough to have a local favorite released in bottles for the second time in 2012. Originally, this beer made it's debut in bottles during San Francisco Beer Week. Now it is back and only for a limited time. The Beer of the Week is Bear Republic Brewing's Racer X.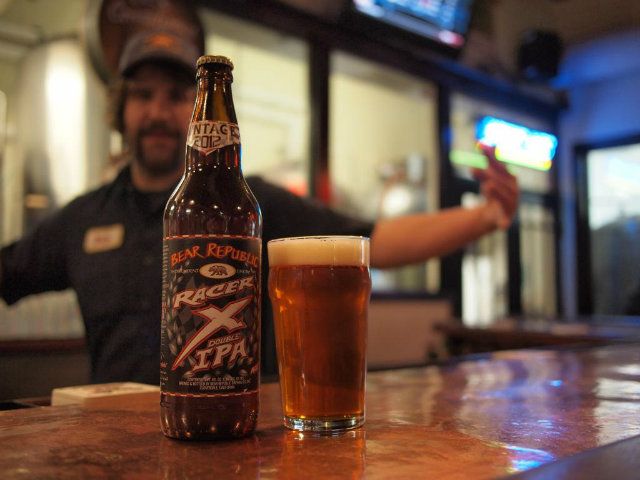 Racer X™
October Release – Draft/Limited Release Bottle
Double IPA
ABV: 8.3% IBU: 100+ Color: Copper
Racer X™ is an uncommon Double India Pale Ale which puts a California twist on English brewing traditions by adding an assertive hop aroma and bitterness that compliments the firm malt backbone.
Like its little brother Racer 5, Racer X™ is balance in a bottle.

2009 California State Fair – BRONZE
2009 San Diego International Beer Competition – 2nd
2009 West Coast Beer Fest – GOLD
Racer X begins with a well rounded, citrus and tropical sweet hop aroma. This beer is a showcase for hops. The malt provides a heavy feel in the mouth while the fruit-driven hops are lead by flavors of pineapple as well as citrus and tropical fruits. The finish is fleetingly bitter with a resinous impact pricking the back of your mouth before disappearing into soft flavors of hops that linger like a breath mint.
Racer X is a beer that Sonoma County and Bay Area beer lovers know pretty well. Always a special treat when found on draft, the opportunity to bring this beer home  should only increase the impressive reputation of this beer. For lovers of Racer 5, Racer X (pronounced as the letter X, not the Roman Numeral for 10) will be a more decadent version of the familiar IPA. Get bottles while you can as this is a limited run and sure to move quickly.