While the traditional Oktoberfest in Munich had come to an end, the Cotati Oktoberfest was ready to kick off. Living around the corner from this small town celebration, I headed to La Plaza Park for some beer, brats and a sunny afternoon.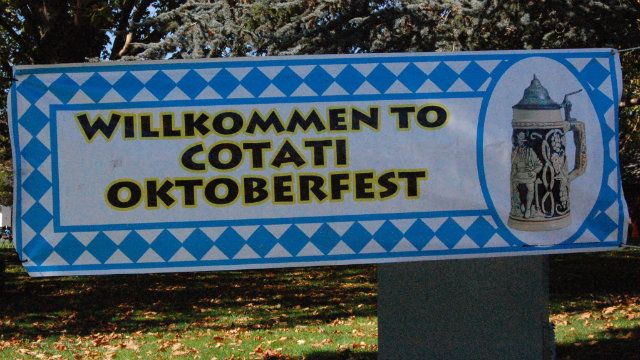 Upon entering the park just before noon, there were very few people in attendance. $15 gets you a meal with your choice of drink (beer, wine, root beer, or water), or $20 gets you the same but includes a small stein. They started serving food at 12:00, and music started shortly thereafter from the Karl Lebherz band who was playing traditional German accordion type music, polka, etc.
Lagunitas was the only beer provider, serving Daytime, Pils, IPA, and Little 'Sumpin. Included with the "meal" was a bratwurst with sauerkraut, potato salad, and a piece of gingerbread for dessert. You needed tickets to get any food or drink at the event; additionally a Pretzel was available for $2.00.
Restrooms were available at the park's pavilion. It was certainly was a family friendly event, with music and a dance floor that was put down. For the small crowd there was plenty of shaded seating under a large canopy; there are also plenty of trees in the park which provide ample shade.
Only drink beer when pine trees are green!

Karl Lebherz
Entertainment included wiener dog races were held at 2:00pm, "tankard hold" (for men) at 3:00pm, and the "Beer Stein Race (for women) at 4:00pm. The winner of the tankard hold earned the right to be at the end of the beer stein race, and all the women racing had to give him a kiss before finishing.
Check out the pictures from the event on Facebook and tag you and your friends who you may have seen at the event.