Oktoberfest has been the focus of the beer world the last couple weeks, but the German brewed beers aren't the only choice for thirsty beer lovers. Showing how the German brewing tradition has evolved in this country, this week I turned to a brewery carrying on the tradition of one of California's early German brewers. While the name and tradition is German, the beer is uniquely American. The Beer of the week is Ruhstaller Beer Company's CAPT California Blk IPA.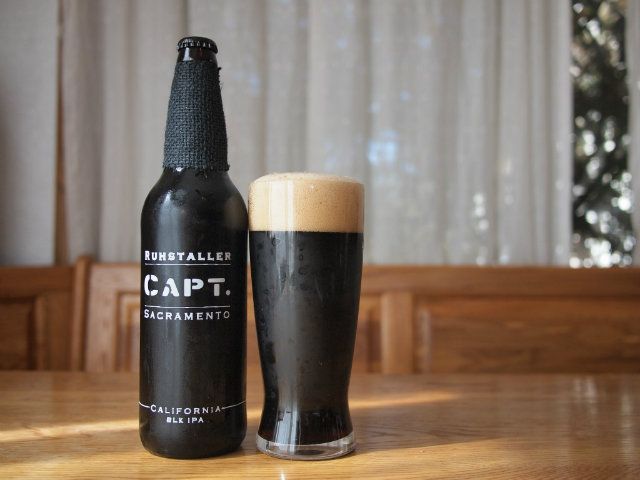 BARLEY | California Metcalf & Copeland
HOPS | CTZ, Cascade, Centennial & Citra
IBUs | 55
ABV |7.6%

Our California Black IPA embodies Captain Frank Ruhstaller's legacy, boldy balancing the bright citrus aroma and profile of an IPA with a surprisingly smooth, lightly-roasted chocolate malt body.
Rushtaller's CAPT California Blk IPA starts with a bright hop aroma that leaps from the glass. This is all hops without a trace of the roasted barley that provides the dark color of the beer. While dark in color, the beer is clear as a bell with deep garnet colors tinting the world when looked through. A coffe and cream head sits atop the beer but fades quickly.
When taking in the first sip, the hops are calmed by the full bodied malt character. Soft on the edges, the roasted barley provides a firm backbone for a refreshing and light spirited beer. The finish is a touch chocolatey with lots of floral hops.
Ruhstaller's CAPT California Blk IPA is a welcome addition to the growing selection of Black IPAs/Cascadian Dark Ales. While it has little effect on the beer inside, the design of the bottle is also something I'm a big fan. Black burlap sacks, just like those used to collect hops, wrap the neck while the bottle's design is simple and classic, recalling a time past.
Look for Ruhstaller around the Sacramento area with expanding distribution bringing more beer to new areas. For Santa Rosa folks looking to try the beer, be sure to visit Toad in the Hole's GreenHopFest. Two versions of Ruhstallers Hop Sac fresh hop pale ale will be on draft along with a wide selection of other locally brewed wet-hopped beers.