October is upon us and fall is in the air. Traditionally, I've filled these pages with pumpkin beers to mafrk the season. This year, there will be NO PUMPKIN BEERS. Is this because I dislike pumpkin beers? Abosolutely not, I just felt like offering something different this year before bringing back the the orange gourds in 2013. This that in mind, he's a taste of fall without the pumpkins. The Beer of the Week is The Breury's Autumn Maple.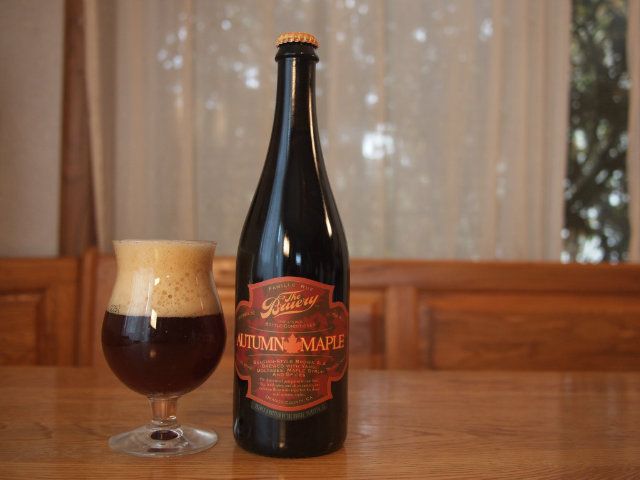 Brewed with 17 lbs. of yams per barrel (in other words, a lot of yams!), this autumn seasonal is a different take on the "pumpkin" beer style. Brewed with cinnamon, nutmeg, allspice, vanilla, molasses, and maple syrup, and fermented with our traditional Belgian yeast strain, this bold and spicy beer is perfect on a cold autumn evening.

ABV: 10%, IBU: 25, SRM: 15, Release: Fall
The aroma of sweet caramel jumps out but brings with it a touch of vegetal earthiness clinging to the vapors of alcohol. Relatively heavy on the palate, the touch of sweetness that drives the beer is broken up by a pinpoint carbonation and the finish of alcohol. Dried fruit and spicy notes of alcohol signify the soul of this beer is a Belgian quad, but maple and fall spices present throughout Autumn Maple create a one of a kind fall-inspired brew. The beer finishes with a seasonal flare of spice, molasses and alcohol that wards off the crisp autumn wind.
Autumn Maple doesn't contain any pumpkin, but still has the impression that defines many of the pumpkin ales on the market. Just like Autumn Maple, many of the beers out there actually contain no pumpkin. What Autumn Maple does have is the addition of yams which I perceive as adding a bit of sweetness and body from the starchy tuber.
With a broad malt base and all the fall flavors we love, Autumn Maple is a beer you should enjoy into the holidays to bring the right feeling to the table or just a beer drinking session.