Every year, in preparation for the Great American Beer Festival, Bear Republic Brewing of Healdsburg holds a party to share the beers they've brewed over the course of the year and plan to submit at the country's largest beer festival. For fans of the brewery, this is a chance to experience their own slice of the GABF without a trip to Denver. 
While this is the fourth year of the GABF Cellar Party at Bear Republic, each year has been a unique experience. Â Early on, the event looked to find its way, but the past two years have been about creating a better experience.
After an introduction by Richard Norgrove, Sr. the taps were opened and the crowd quickly started their sampling. Trays of food were passed around, many infused with Bear Republic beers or designed to bring out the flavors of select brews.
The beer selection was a bit different compared to years passed.  Some may have been disappointed that favorites of theirs were not pouring, such as Ryevalry, Heritage and Volksbier, but this year's selection represented what the brewers felt was the best beer coming out of the brewery.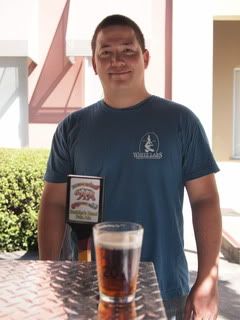 Pro-Am submission Buddha's Hand Pale Ale, brewed with Tyler Smith of the local Beerocrats was selected as the crowd favorite on the hot afternoon on the plaza. The citrusy aroma and flavor imparted by the Buddha's Hand gave a bigger hop presence to the beer while the light body lower alcohol made for a refreshing beer. My personal favorite was the Late Harvest Lager, an Oktoberfest lager that was sweet with caramel malt driven body and finished with a solid hopping that helped push back the heat of the day.
At the end of the day, the event really was about the best that Bear Republic had to offer and the chance to go back through those special releases and get a taste of what they did so well over the last 12 months. Whether it was a tart Berlinner Weisse (Tartare), a barrel-aged wet-hopped Racer 5, annual favorites like Apex and Racer X or many of the other special beers that you might only find at the brew pub, the chance to go back and get one more taste brought out a true appreciation for one of our favorite local breweries.
Visit the Brewed For Thought Facebook page to see pictures from the afternoon. Be sure to share and tag pictures of friends if you happen to find yourself or people you know in attendance. Good luck to Bear Republic and all breweries headed to Denver in search of brewer's gold.