Oktoberfest begins today but the Bay Area gets a chance to experience a different annual beer event when New Belgium's Tour De Fat rolls into town. Part circus, part bike expo and part beer festival, the Tour De Fat is the type of event beer lovers should experience first hand at least one time. With this weekend's festivities in mind I wanted to feature a beer from the Fort Collins brewery. The Beer of the Week is New Belgium's Red Hoptober.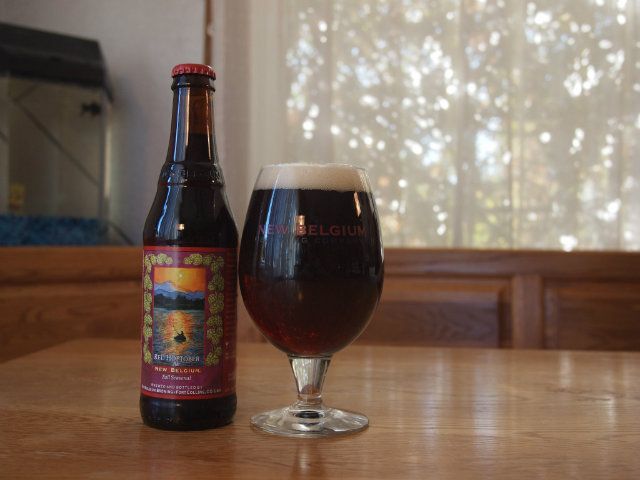 Fall is here and with it our seasonal ale, Red Hoptober. Shining like autumn leaves in a globe glass this beer pours a dark and lovely garnet as it builds a bright, inviting head. The Eldorado hops are bold and present with a distinct, piney flavor while the caramel malt and roasted barley provide a backbone to stand Red Hoptober upright. Centennial and Cascade hops offer hints of citrus, tickling the nose, while the tongue carries a subtle, roasty tone that pairs pleasantly with the warming bite of bitter. Red Hoptober is perfect for shortening days and campfire nights.

Just the facts Ma'am…
Birthdate – August, 2012
ABV – 6.0%
IBU – 60
Hops – Target, Nugget, Cascade, El Dorado, Centennial
Malts – Pale, C-80
Body – Medium
Aroma – A bouquet of lush floral, bright citrus and undertones of herbal and spice and airs of caramel kissed coffee.
Mouthfeel – Heavier start, hop bitter middle and definite crisp finish.
Flavor – A cupful of sweet fig, tropical fruit, toffee, roasted nuts and hoppy bitterness. None of which overwhelm, they simply meet in the middle to attempt balance.
Visual – Brilliant glowing flickering red hue.
My first assumption about this beer when seeing the name was that this was a tweak of last fall's Hoptober release. While that beer was a brightly hopped Golden Ale, Red Hoptober is its own beer brewed from a new recipe.
Red Hoptober is definitely a red but skewing towards brown. A big hoppy aroma leaps from the glass as poured from the bottle. Nutty malt with notes of chocolate blend into the hops seamlessly. Pepper and a bitter finish cling to the tongue. The Mmld of roasted bitterness and hop bitterness brings the beer together into one unified experience.
Red Hoptober is a perfect beer for the fast approaching fall. Bringing roasted flavors to the table to pair well with the comfort foods of the season, Red Hoptober is still light enough to refresh those of us experiencing an Indian Summer.