September's a busy month, so there's no time to slow down. Had a busy week last week so let's get to it. 
Baseball and Beer Camp – The folks over at Sierra Nevada were kind enough to let me sit in their seats at a recent A's game. To say thank you we made sure to tailgate with the latest Best of Beer Camp sampler while in the parking lot. I'd had the Imperial Pilsner at the pub in Chico and liked it then. The Floral IPA is definitely floral with perfumey accents to the hop flavors. My two favorites of the pack were the Imperial Red and the Oatmeal Stout. The Red was full flavored and hoppy, exctly what I needed on a windy evening in the parking lot. The Oatmeal Stout greeted us on the way back and was a nice night cap under the stars, rich and almost thick bodied with soft edges.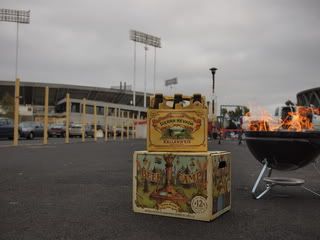 12-pack samplers and draft handles are easy to find so you shouldn't have to hunt too much. This coming Tuesday we'll have a pair of Sierra Nevada Beer Camp beers on draft at Toad in the Hole if you're looking for a chance to give them a try.
Books and beer – Ken Weaver and Anneliese Schmidt were on hand at the Toad in the Hole talking about the Northern California Craft Beer Guide. This is the must own book for beer lovers wanting to know about beer in Northern California. Weaver has been all over the northern half of this state pushing this book and from the sound of it will continue to agressively promote it. If you can, find him at a local festival and pick up a signed copy. Or you can buy one at Amazon and have him sign it when you do find him.
An Education in Organics – Wednesday was the monthly educational night at Heritage Public House as part of #DrinkUp with Brewed for Thought. Excellent organic beers across the board but the Sinister Twin from Uncommon Brewers was the highlight. This cellar-aged quad brought a lot of sake comments from the crowd and I have to agree.
Happy 15th to Speakeasy – I remember shopping the aisles of Andronico's in Berkeley as a budding craft beer drinker in the late 90′s and discovering a cool bootle that we just had to have. Shifty eyes, gangsters and the words "Speakeasy" and "Prohibition" sold us on the first six-pack but the good beer inside kept us coming back. We celebrated the 15th Anniversary at Taps on Thursday and I couldn't have been happier. My favorite of the 12 beers we had on tap was Payback Porter but I've always loved that Hunter's Point classic. Keep an eye out on Facebook for photos from the night.
I'll be on a boat! – Brews on the Bay is this Saturday. Find me on the boat and I'll snap a picture of you. Might even have some schwag to give away.