Family friendly events in the beer industry are actually more common tna many people expect. Whether they are local pubs and breweries where children are welcome or festivals open to all ages, the ability to enjoy an afternoon out with a craft beer and the family is more common than ever. A great example of this type of event is the Soroptomists Beer in the Plaza. 

If you've never been, Beer in the Plaza takes over the plaza in Healdburg. With the gazebo to the east housing the band, the lawn in front is protected by a mat where children gather, play, wrestle and dance. Attendees congregate around the fountain in the middle and breweries line the spoked walkways heading towards the corners of the plaza.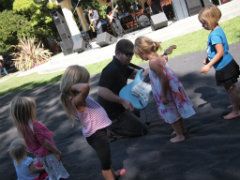 Highlights for beer drinkers would include Healdsburg Beer Company, at their only festival appearance of the year, Sierra Nevada with a wide selection of beers including Hoptimum and North coast also breaking out their limited release Rasputin XIV and Grand Cru. Moonlight and Third Street AleWorks unveiled new beers and unofficial host Bear Republic showed off their Grand Am, a hop-driven pale ale perfect for a sunny day under the redwoods.
The event really is about families though. Teens worked booths selling homemade cookies and drinks. The lead singer of the SoulShine Blues Band came off the stage and let children strum his guitar mid-song. When not participating in their own guitar solo, kids danced and chased each other through the open areas in front of the stage. Babies, toddlers and young children were all present and completely welcome.
Check the slideshow below to see more of what went down and please share your experiences at the Plaza if you happened to be there.