I was watching Rick Bayless's PBS show Mexico – One Plate at a Time and he showed a clip of him making mussels with fishermen in Baja Mexico. While he went on to showcase a different recipe, I was inspired by the cooking done with the locals. The recipe was simple: mussels, onions, tomato, peppers cilantro and beer. Using this as my inspiration I set out to bring some craft beer flavors into the mix. 
The dish is essentially fresh cut pico de gallo tossed in with beer to steam the mussels. While I wanted to stick with this idea, I wanted to play up certain aspects of the dish and also give it a bit of a classic beer and mussels twist. First I picked Deschutes Chainbreaker White IPA as my beer as this beer is more of a hoppy wit than an IPA in my opinion. To play on the added hops, I wanted a more flavorful pepper than just a jalapeno and chose to use a chopped pasilla. Lastly, I added some lime just and garlic to bring out the flavors. Here's how the process went.
1 lb mussels
1 passilla pepper
1 jalapeno
1 onion
1 bunch cilantro
1 lime
3 cloves garlic
one dozen cherry tomatoes
1 bottle Deschutes Chainbreaker IPA
salt and pepper
First, clean your mussels. Use a vegetable brush if handy or whatever you have that's clean that can scrub the mussels. Make sure no shells are broken and that the shells are tightly shut.
Chop your onion, garlic, and peppers roughly, no need for a fine dice here. Heat your pot while prepping the vegetables and toss them in with the beer to get everything warming and flavors blending.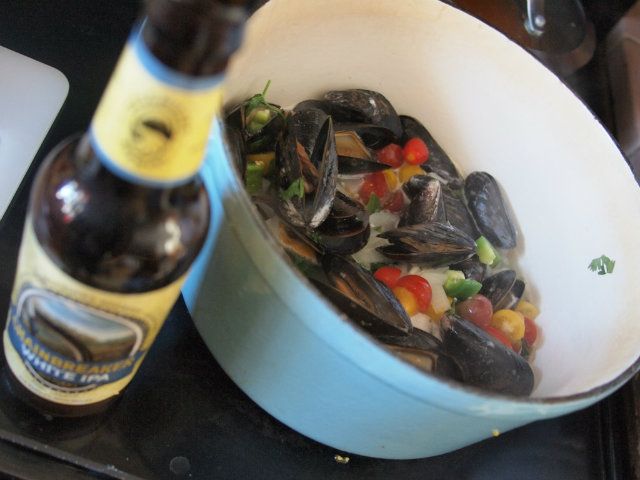 When the vegetables are in the pot with the beer and the mussels are cleaned, turn the heat to high and cover. Steam until the mussels open. This should only take 2-3 minutes. Toss the mussels with chopped tomatoes and a small handful of chopped cilantro. Add the juice of one lime and cover for one minute more. Add salt as needed.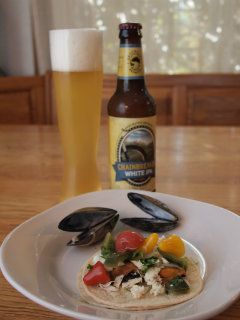 At this point you have two options for how to serve your dish. One way is to make small street tacos. Be sure to use the small corn tortillas for this as it could take a lot of mussels to fill a standard corn tortilla. I topped my mussels with a slice of avocado, queso fresco, diced cabbage and cilantro as well as some of the steamed veggies from the pot.
If you'd like a dish to sit down to, serve over spanish rice and be sure to spoon the broth liberally over the rise. Serve with warm tortillas to help soak up any additional juices left on your plate.
Let me know if you have any variations on this recipe. Spice it up with the addition of hot sauce on the plate or create a richer dish with a tablespoon of butter tossed in with the tomatoes. Most importantly, enjoy!