"I love it when a plan comes together." Who doesn't? Unfortunately, there are times when they don't come together and you just have to make due with what you have. That was the case with this week's featured beer. While I tried to bring together all three components of this collaboration, I fell short. So instead of a three-way feature, I focused my attention on one. The Beer of the Week is Dogfish Head's Saison du BUFF.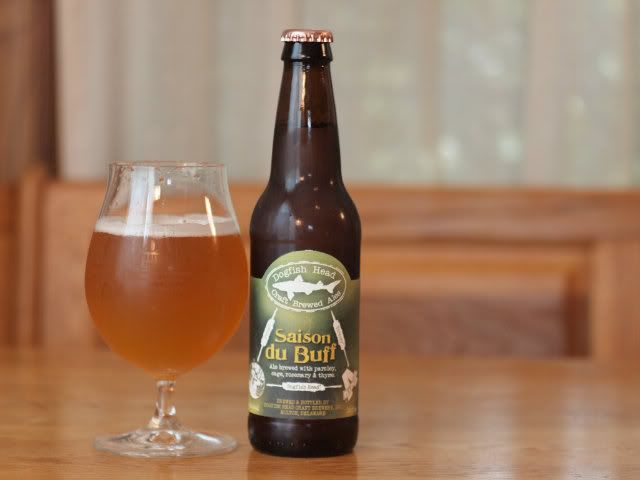 The BUFF is back.

Back in 2003, friends Bill Covaleski of Victory Brewing, Greg Koch of Stone Brewing and Sam Calagione of Dogfish Head Craft Brewery formed an alliance to share their passion for American craft beer with the world.

It was several years until BUFF – Brewers United for Freedom of Flavor – bottled a beer, but on all accounts, it was worth the wait.

"We wanted to do a beer that we'd never done before," says Calagione.

In 2010, the brewers gathered at Stone in San Diego, Calif., and got to work. The recipe started with a love for saisons and sage. Soon parsley, rosemary and thyme entered the conversation, and a beer was born. Later that year, batches using the same recipe and ingredients were brewed at Victory in Downingtown, Pa., and Dogfish Head in Milton, Del.

"Saison is such a cool style because it's really herbacious," Koch says. "It's got peppery character, and you get this natural citrusy character, as well. Add in these herbs that we're using and it just takes this thing to a completely different level."

Covaleski agrees. "Bringing something new to the style is a challenge," he says. "I think we were up to the challenge. I think we rose to it."

This year marks the return of Saison du Buff. Dogfish Head's version – a sessionable 6.8% ABV – is hitting taps and shelves throughout March. Victory's batch is coming in April, and Stone's is due in late May. Each version will be available throughout its brewery's distribution network.

This beautifully complex three-pronged collaboration is designed to get craft brew fans talking and experimenting.

"We want everyone to try all three versions," says Calagione. "Maybe blend them together, find ratios that are best for you, because beauty is in the eye of the beer-holder."
While I tried to do as instructed, I ran into problems finding the final piece of the puzzle: the Stone brewed bottle. With Victory and Dogfish in hand, the question was "Is two better than one, despite not being three?" With help from my wife, I decided that if I can't get all three, then it's not worth mentioning two. As I said earlier, I had to focus on Dogfish bottles.
Dogfish Head's Saison du BUFF starts with a big aroma of herbs and citrus. This aroma is sharp, bright and alluring. The tack sharp lemon essence continues when drinking the beer. Herbs slowly push through and fade into a grassy finish. The peppery taste of alcohol and sting of carbonation leave a lasting effect on the tongue.
While definitely a saison, Saison du BUFF stands out as unique thanks to the depth of flavor in the herbs used. Each component of the beer sings through at a different point, making it difficult to fully appreciate this beer in just one bottle. When you've had a chance to figure out the aroma and initial impact of the beer, you've already finished more than half your glass and still have so much more to discover within the beer.
I look forward to opening the Victory bottled version of this beer and will continue my hunt for the Stone edition. Have you tried any of these? Do you have a preference to one brewery's take versus the others? If you've spotted the Stone bottles in Sonoma County, please let me know where.