During SF Beer Week, I want to put a spotlight on one of my favorite places. Located in Larkspur Landing, Marin Brewing Company has been a staple in the North Bay for over 20 years. Owner Brendan Moylan's first venture into the craft beer world (with Moylan's Brewing in Novato following) is a personal favorite as a halfway point between San Francisco and Santa Rosa. On this evening, I made it a stop for me and my two girls as we came back from the City on the Ferry.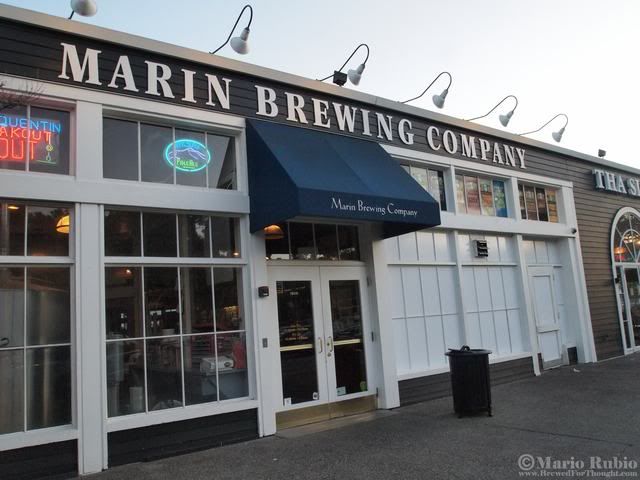 Traveling with kids, it's best to point out that Marin Brewing is a great place for children. The menu available for children is nothing out of the ordinary, but the atmosphere and staff were perfect. I love brewpubs for kids as the noise level is such that a screech or loud laugh from the younger ones doesn't ruin anyone's experience.
The beer is obviously one of the top concerns when visiting a pub. Marin and head brewer Arne Johnson have a reputation around the Bay Area for well rounded offerings in addition to being an active participant in the region's creative brewing movement. Catching my eye on this evening was a return to Belgian styles on the menu. The Saison de Revolution was brewed as an anniversary beer for Oakland tap room, Beer Revolution. Brewer Tim Sciascia mentioned a return to some of the styles previous hidden away in the brew logs. The Belgian Abbey was another that was revived with more planned for the future.
While distracted by the two new Belgian offerings, I hadn't noticed a glaring omission from the beer board. There were no IPA on draft that day. Normally this would have been cause for concern, but the variety of other beers produced at Marin quickly recaptured my attention. A highlight on this evening was the Chocolate Airporter. A strong porter brewed with cocoa nibs and vanilla, this beer was a perfect compliment to a Mt Tam burger with blue cheese.
Aside from the beer, a pub needs to satisfy hungry customers as well. With the previously mentioned burger, I had a side salad. While a side of fries is standard pub grub, the Marin Brewing side salad can't be missed. I've raved about it to others in the past and my server whole-heartedly agreed with me on this night. When a salad has the opportunity to stand out, it really says something about the quality of the ingredients.
Other items that beer lovers might want to consider are the pizzas. Always a good option for sharing around the table, Marin's pizzas feature a tasty crust that will win over many fans and keep them coming back. The Bangers and Mash is another classic, featuring some of my favorite pub bangers in the North Bay. The sausage features a silky texture paired with a crisp, snap from the casing.
All around, Marin Brewing is a great brewpub. The classic styling is inviting with a menu of food and beers that provides the quality that has kept people coming back for almost 23 years.
Sidenote: Today marks the birthday of owner Brendan Moylan. Celebrating the 1st anniversary of his 50th birthday, we're throwing a small party at Taps in Petaluma. Four beers from Marin, including Airporter and Saison de Revolution, will be on tap as well as four more from Moylan's. Come by and have a pint as we raise a pint to the birthday boy.