I almost always drink craft beer, but when I don't, and I'm still looking for the intoxicating effects of an adult beverage, I usually like scotch, bourbon, or other brown liquors. Thankfully, the craft beer industry has been involved in a recent trend of small batch distilling. Anchor Brewing of San Francisco was the first to venture into this business that I had heard of but have since seen other brewers take the step as well. On this January afternoon, I decided to pay a visit to Stillwater Spirits in Petaluma. 
Stillwater Spirits has ties to the craft beer industry by way of Brendan Moylan, owner of Moylan's Brewing and Marin Brewing. Stillwater gets all of it's wash from Moylan's in Novato, just a few miles south of the distillery. The facility had a familiar feel but was definitely exotic to someone more at home in a brewery.
The tasting included many of Stillwater's own products as well as products produced for others. A Rhum Agricole brought me back to my days in college when Cuba Libres were my go-to beverage. A citrus forward gin was promised to change my opinion of the clear liquor, but I still don't like gin (sorry). An Asian Pear Brandy won me over with the pear grown inside the bottle. Stillwater also had an assortment of vodkas and other spirits to sample, many of which I had to pass on, as I was there for a reason.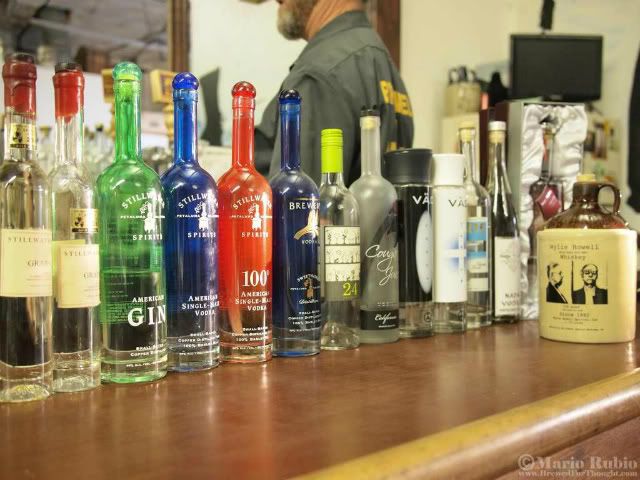 While Stillwater is still seeking label approval and has yet to release any products for sale, there are a couple items on the horizon. The first of which was a cask strength single-malt whisky finished in orange brandy barrels. Before sampling, I was given a tutorial on how to really experience a whicky or scotch properly.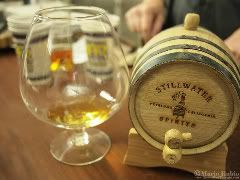 In as large a snifter as you can find (we used a pair that stood approximately 12 inches tall) pour your spirit. Do not swirl the liquor. Tip the snifter at roughly 45 degrees. Hold the snifter mid-chest level and slowly bring the glass to your face. The aroma of the liquor will change as you adjust the level of the glass. This technique allows you to more accurately pick apart the individual nuances of the liquor as opposed to burying your nose in the snifter.
While my intention was to analyze these whiskies as I would a beer, I found my palate unprepared for the sear of the spirit. Far behind me are the days of drinking scotch and smoking cigars. Accustomed to drinking beer, the alcohol overpowers my now timid taste buds. That said, Stillwater's whisky was still very impressive. The orange brandy whisky was distinctly orange with notes of caramel and brown sugar. Surprisingly sweet but well rounded, the discussion going on around me what that the orange flavor may be too intense. We also tasted a four year old cherry wood single malt. This whisky was a touch more potent than the first but was silky smooth and had a texture that felt amazing. Cherry lead the way with a complex web of flavors below that my tongue could only translate to "fatigue."
This short day of sampling stronger proof spirits was a bit refreshing. While beer was still had, the whisky brought my palate alive, pulled it out of a rut of beer tasting. It was recommended to me that I should mix more liquors into my routine, a suggestion that might not be so bad. A well rounded palate should be more useful when addressing one's strength by exposing another world of tastes and flavors.