In case you haven't heard, this was the news that most of the beer world woke up to:
What a turn of events. The deal is for $38.8 million split up between AB buying 58% for $22.5 million and Craft Brewers Alliance selling its 42% stake in the company for $16.3 million.
The initial reaction around Twitter was fairly swift and predictable. Personally, I tend to disagree with many of these opinions and here's why.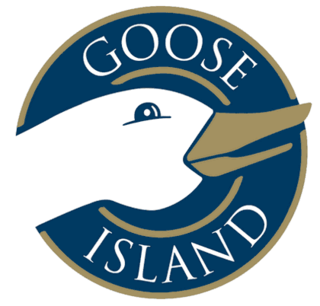 To understand this deal I think you need to understand Goose Island and what the brad was as of Sunday, the day before we all got the news.
On Sunday, Goose Island was a brewery that was well respected within the brewing industry. Beer geeks adored many of their beers. I remember the excitement we felt here in the Bay Area when we discovered we would be getting Matilda, Sofie and Peres Jacques shipped to out shelves. Bourbon County Stout, for many, defined the style of a bourbon barrel aged imperial stout. The company was seen as a leader in terms of innovation for brewing styles as well as sustainability techniques. In short, it was good to be Goose Island.
But Goose Island had a secret. Goose Island was partially owned by Anheuser-Busch money. The Craft Brewer's Alliance owned 42 percent of Goose Island (aka the Fulton Street Brewery LLC). The Craft Brewer's Alliance is partially owned by Anheuser-Busch (32.25%). As of Sunday, Anheuser-Busch essentially held a 13.5% stake in Goose Island.
Here's the thing, it wasn't a secret. In fact, most people knew about the Craft Brewer's Alliance and the interest of Anheuser-Busch. In fact, it was just a few months before this that the CBA pulled a similar move and bought out the remaining interest in Kona Brewing, a brewery that was in Goose Island's shoes just a few months prior. The CBA has been using the Anheuser-Busch distribution channels and the new deal only enhances that agreement.
Today is Monday. Goose Island has announced that financially, the brewery will be in the hands of Anheuser-Busch. Greg Hall, former brewmaster of Goose Island, will be stepping down, John Hall, former owner of Goose Island, will now be CEO and former head brewer Brett Porter will be the new brewmaster.
With the same people in place and managing the brand, I find it hard to believe Anheuser-Busch will make significant changes, especially with regards to the craft beer world and the beers we love so much. Most importantly, I doubt Greg Hall would stand by and watch the brand he created and nurtured be turned into a glorified version of Shock Top. The important players with Goose Island staying in the mix says a lot about where the company plans to go.
Correction – John Hall, former owner will be the new CEO and Greg Hall is simply stepping down. Regardless of this little piece of misinformation, I stand by my opinion regarding the continuity within the new company that will give hope for the future.
When it comes down to it though, we can't judge this deal for at least another year. I love craft beer because it tastes great. If Anheuser-Busch were to produce great tasting beer, I would have no problems with that. If Goose Island continues to brew the same beer it has brewed before today, shouldn't we love it the same?
The idea of ownership changing a beer is ridiculous in my mind. Yes, owners can change the process. Yes, owners can gut the product in the name of efficiency and profit. Unless we see this actually happen with Goose Island, I don't think it's fair to start personal boycotts on the brand.
In a couple weeks, it will be official and Anheuser-Busch will own Goose Island. Haters will point to this as their reason, ignoring the fact that Anheuser-Busch has been the one serving them Goose Island for years. These same haters will sit down at a craft brewery and drink down their beer without the slightest idea of whose pocket they be lining. Do we know where the money that funds our craft brewery has come from? Can we make these judgements based on ownership of one brewery when we don't know even the slightest about others?
Goose Island made their name brewing excellent beer. Tomorrow, the same people that brewed that beer will go into the Fulton Street Brewery and continue to brew, bottle, package, ship and deliver that same beer. As time moves on, we should continue to judge Goose Island based on what we experience in our pint glass.