It's time for Mardis Gras and it would be a shame if you didn't have the right dish to nourish the soul before heading out for some real Fat Tuesday celebration. Try this gumbo recipe and see if you have a better pairing for stew or some tweaks to the recipe.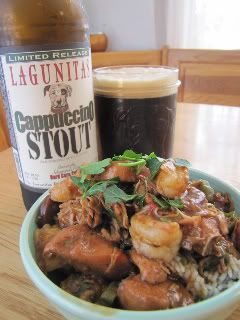 Chicken, Shrimp and Smoked Sausage Gumbo with White Rice
Based on Recipe by Emeril Lagasse
Cook Time: 3 hr 30 min
Serves: 3 to 3.5 cups, 3 to 4 servings
1/2 tablespoon plus 1/4 cup vegetable oil
1/2 pound smoked sausage, such as andouille or kielbasa cut crosswise 1/2-inch thick pieces
2 skinless bone-in chicken breasts
1 pound uncooked, head-on shrimp
1 tablespoon Creole seasoning
1/2 cup all-purpose flour
2 cups chopped onions
1 cup chopped celery
1 cup chopped bell peppers
1 teaspoon salt
1/4 teaspoon cayenne
2 bay leaves
4 cups chicken/shrimp stock (make this with shrimp shells, chicken bones and veggies above)
½ cup lager
1/4 cup chopped green onions
1 tablespoons chopped parsley leaves
1/2 tablespoon gumbo file powder or 1 cup okra
White Rice
Hot sauce
Cut chicken from bone and cut into 1 inch pieces. De-shell and clean shrimp. Place chicken bones and shrimp shells in 5 cups of water with 1 cup chopped onions, ½ cup chopped celery and ½ cup chopped bell peppers (vegetables for stock do not need to be finely chopped). Season with ½ teaspoon of salt and ½ tablespoon of Cajun seasoning, bring to a boil and simmer for 45 min to 1 hour. Strain liquid and set aside for use later.
In a large enameled cast iron Dutch oven or large pot, heat 1 tablespoon of the vegetable oil over medium-high heat. Add the sausage and cook until well browned, about 8 minutes. Remove the sausage with a slotted spoon and on paper towels. Set aside.
Season the chicken with the Cajun seasoning and add in batches to the fat remaining in the pan. Cook over medium-high heat until well browned, 5 to 6 minutes. Remove the chicken from the pan, let cool, and then refrigerate until ready to use.
Add shrimp to the remaining fat in the pan. Cook for 1-2 minutes until cooked. Do not over cook. Remove from pan, let cool.
Combine the remaining 1/2 cup oil and the flour in the same Dutch oven over medium heat. Cook, stirring slowly and constantly for 20 to 25 minutes, to make a dark brown roux, the color of chocolate.
Add the onions, celery, and bell peppers and cook, stirring, until wilted, 4 to 5 minutes. Add the reserved sausage and chicken, salt, cayenne, and bay leaves, stir, and cook for 2 minutes. Stirring, slowly add the chicken and shrimp stock and beer, and cook, stirring, until well combined. Bring the mixture to a boil. Reduce the heat to medium-low and cook, uncovered and stirring occasionally, for 1 – 1½  hours, skimming off any fat that rises to the surface.
Add sliced fresh okra. Stir in and cover for 1 min. Add reserved shrimp, stir into mixture and cover for 1 min or until shrimp is hot. Remove pot from heat. Remove and discard the bay leaves. Stir in the green onions and parsley. If no okra is available, add file powder at this point.
Spoon rice into the bottom of deep bowls or large cups and ladle the gumbo on top. Serve, passing hot sauce on the side.
The roux got a little dark for my dish and required the big stout to balance the flavors. With a lighter roux, the bitterness should subside a little and be suitable for a brown ale or porter. Abita's Turbo Dog would be a fun beer to pair with this.
As far as the beer for the recipe, I chose a lager (Kona Longboard to be exact) because the stew would reduce and the bitterness of the hops would be overpowering if any kind of pale ale or similar beer was used. Be very careful that you choose a malty beer without significant hopping as even the lager produced a noticeable bitterness to the dish.
If you're short on time after a long day of work, make your stock the night before and refridgerate it. Cook your meats in the morning and make your roux. Once you've mixed everything back into the pot, transfer your gumbo to the crock pot and let it simmer on low over the course of the day. A little extra stock may work to ensure you don't burn the gumbo. When you get home, pick up where you left off, or if need be, transfer back to the pot to thicken the sauce.
Good luck and bon appetit.