After Zwicklemania in Portland, the family and I headed back south and made a pit stop in Corvallis. I had lived in Corvallis for 18 months so I was familiar with the lay of the land but our destination didn't exist at that time. Block 15 Brewing is entering its third year in downtown Corvallis and it was about time for me to pay this place a visit. 
Located in the heart of downtown Corvallis, Block 15 is quite the hub for nightlife in the area. As we walked up to our meeting, people were milling around the door waiting for a table. Some people had waited for over an hour for their table and people coming up seemed as if they anticipated long waits as they put their names on the list and left to do other things.
The restaurant is split into three areas, the downstairs by the bar, the upstairs which looks out over the downstairs area and the game room, hidden behind the beer room and for 21 and over groups only. The restaurant is full of life and reminds me of a tavern from a hero's quest with a modern twist. The game room departs from this style, is much quieter.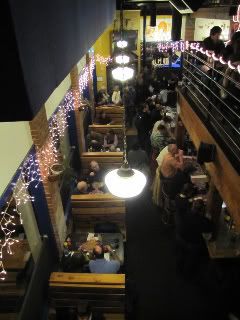 As we had questionable experiences with the definition of "family friendly" earlier in the day, we were happy to see that Block 15 truly was welcoming when it came to families. The kids menu came inside a kid's book to keep Kaleigh entertained. She was served a tasty house root beer and the kid's menu also had healthy options. That said, Kaleigh tore through her hot dog and carrot sticks when it did arrive.
For the adults, we sampled through the beer and both went for BBQ. The menu was what you'd expect from a pub but the pasta entrees and BBQ did seem a step up. My Baby Back Ribs were excellent and Jen enjoyed her pulled pork sandwich. But what about the beer? I'm getting there.
We started with a sampler of the Session?, Six Hop Wonder, Love Potion No. 9 (cask), Big Bad Leroy Brown and Aboriginale. Jen, usually my reluctant tasting partner, went through the beers and enjoyed them all. The Session? was a session-strength pale ale that went down smooth and showcased a growing trend among craft brewers that I'm really enjoying, low ABV flavorful beers. Big Bad Leroy Brown was a collaborative effort with local Oregon State students. Six Hop Wonder was a beer that began as a series of single hop IPAs and culminated in the 6-hop double IPA. Basically, Block 15 has a lot of side projects going on that all seem to result in tasty beers on tap.
After dinner I met with the cellar man Jesse who would show me around the facility. On the main floor, behind a glass wall, the brewing room features a 7-barrel system with grain fed from a nearby closet. What I found interesting was that the brewing room was not piped to the fermentation tanks and a hose would need to be brought up the stairs and into the room to transfer beer after the brew. After hearing this I had to see what went on downstairs.
It's within the basement of the brewery that all the magic happens. A low ceiling room full of grundy's and a few taller fermentation tanks housed all the beer that would eventually be poured up stairs. I was given the tour of the various beers and tanks and then led around the corner to the bourbon barrel room. In this room were numerous bourbon barrels aging various styles of beer. Although only 3 years old, Block 15's barrel program is well underway and features a wide variety of brews.
From the bourbon room we walked further under the establishment to the cold box where new brite tanks were installed to handle the most popular beers. Jesse explained to me that previously, all beer served in-house were served via keg, and these were old school kegs with bungs in the side, all hand washed. They also required the brewer's to keep a fresh stock of beer on hand in the cold box to be tapped whenever the bartenders upstairs needed more. The best news, with the addition of the brites, Block 15 will have the ability to put 19 beers on tap.
My tour of the underground facilities was not over yet. I was lead further back into the basement where the Brewer's Reserve was kept. This was a two part collection of beer brewed at Block 15 as well as guest taps. A quick glance at keg tops uncovered treats from across the west including an Oak Aged Yeti that I may have stolen if given the chance. One that Jesse had to point out to me was a 2008 Vignerrone from Cantillon. "I always chuckle at how folks love the Cantillon keg," says Block 15 brewmaster Nick Arzner via email. "I won't tap it until I receive another, and it's been two years!"
When I had thought I had reached the end of the tour, Jesse removed a panel on the wall, revealing a hidden room with even more goodies. In here the sour barrels resided as well as coolship for brewing special European beers.
It was at this point that I was beginning to understand the full scope of this mad scientist's den. Many of the barrel-aged projects Block 15 produces use a variety of barrels, blended together for exactly the flavor they are looking for. I was given bottles to take home and the variety of barrels used in three bottles of beer was amazing. Beer aged in two types of bourbon barrels for 2-4 months, brandy barrels filled with figs, bourbon, pinot noir and oak barrels with cherries, and this is a sampling.
In the end, I walked away from Block 15 wanting more. This brewery seemingly has two styles, which for some reason resonate to me as upstairs and downstairs. Upstairs you have a traditional brewery. There are classic styles, northwestern influenced beers and plenty to be excited about. But when you look at the tap board, you're given a glimpse of what's going on downstairs. Downstairs are barrels of all types filled with beers of all styles. There are creative minds coming up with flavor combinations in search of a new concoction that beer geeks have yet to experience.
I've been in touch with Nick over the three years Block 15 has been in existence and I've always been impressed with what he's had to say. A beer geek at heart, he's found a way to turn that into a career as an inspired brewer. Having finally tasted what he's been able to produce in his small facility, I realize that Nick and the crew at Block 15 are diamonds in the rough. Given the platform of a Portland, San Francisco or even Eugene, we'd be hearing far more about the beer coming from this tiny pub. In the meantime, I can only tell people to find a way to Corvallis and to taste these beers.