'Tis the season, and you're probably wondering what you should buy for the beer lover in your life. If you're reading this site, then you may also be looking for a convenient link to drop on your Facebook so others know what to get you. Either way, here's a list of some Christmas idea's for the beer lover in your life.
Are you buying something for the real enthusiast, someone who keeps draft beer in the house? Tapboards are an excellent gift idea as they replace the generic black nub and can easily be wiped clean to update your next draft offering. The walnut tap is the same as used by countless breweries for their own tap handles, so you know they can take the stress of regular use. Traditionally only available in blackboard, the newest Tapboard is a dry-erase whiteboard.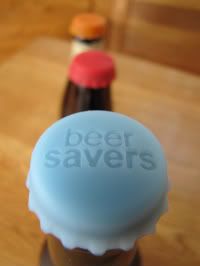 Bottled beers are more your style? Stock their stuffing with Beer Savers silicone caps. These easily washable caps go on to standard bottles easily. If you find yourself looking for a way to save that half bottle you opened last night or don't want to open beers at a party, worried no one will drink them, don't worry. Beer Savers will keep that beer tasting fresh until the next day. I even tested these myself and came back with surprisingly good results.
Maybe you're buying for a new beer geek. The Beer Journal is a great book for the newly minted beer geek. With pages for reviews, beer tours, festivals and more, it's a perfect way to keep track and learn as you take on the craft beer world.
The Beer Journal is a great gift for someone just starting out in the craft beer world. The small size allows for portability without being too bulky to bring along to a festival or brewery tour.

Brewed For Thought –  Book Review: The Beer Journal
If you just want to buy some beer, buy a gift pack. With a few days still left in Hanukkah, look for the Jewbelation Gift Pack from Shmaltz Brewing. Eight bottles of beer, a glass and plenty of fun stuff to make the holidays enjoyable. Not sure about the beer? Join us on Tuesday at the Toad in the Hole for Real Ale night and get a taste of Vertical Jewbelation on draft and Jewbelation 14 in the bottles.
Editor's note: In my rush, I forgot to include another awesome gift, but I have included it now.
For the homebrewer in your life, you might want to get them something to help them brew the beer they dream of. For this person, a membership to the American Homebrewers Association is perfect. Your membership gets you a subscription to Zymurgy, the longest running homebrewing magazine in the world, discounts at pubs and bars around the world, access to the AHA forums and access to special members-only events at the Great American Beer Festival. Additionally, between now and December 14th, use special codes when signing up to receive one of three homebrewing books: Radical Brewing by Randy Mosher (1Radholiday), How to Brew by John Palmer (1010KPOW), Designing Great Beers by Ray Daniels (SBPKSP).
Lastly, you can always give, in my opinion, the best gift of all, me. Plan an event where I host an evening talking about and tasting beers. The theme can be whatever you choose with beer as common or rare as you see fit. If you're interested, contact me via email (Mario-at-BrewedForThought.com).
Have a Happy Holidays everyone.