If there is every a time to watch your words, now is the time. If you're thirsty and looking for a festive beer, a holiday beer might fit the bill. Since we're in the middle of Hanukkah, better make sure that beer is Kosher. While my people weren't chosen, I certainly have been, as my favorite beer pf the season is regularly the Shmaltz Brewing Anniversary release Jewbelation. It is this years release marking 14 years of Shmaltz Brewing will fill this space for the week. My Beer of the Week is Jewbelation 14.

This week's Beer of the Week is being included in the Beer Advent Calendar hosted by The Brew Site. Each day a new holiday ale will be reviewed until Christmas.
At age 14, is Shmaltz Brewing still the throes of adolescence? After publishing Craft Beer Bar Mitzvah, a new small business saga, I'll leave it up to you, Dear Reader. As with many 14 year olds, this years Jewbelation is all about Hands, Hearts and Farts. 14 is the numerical value of the Hebrew word for "hand." The human hand contains 14 digital bones and 14 joints. 14 items to fill the Passover seder plate, narrating the Exodus of the Hebrews – "and with a might hand did the Revolution bring us out of Egypt." Jacob labored 14 years to earn marriage to Leah and Rachel. Over a lifetime, the average American spends 14 days kissing. Valentine's day, Feb. 14, dates to a pagan festival for the she-wolf who suckled mythical founders of Rome, Romulus, and Remus. 14 lines structure a sonnet. Romeo and Juliet unfolds 14 days before Juliet's 14th birthday. Carbon 14 dating proves the age of organic materials. Woody Allen, now married to his once not-daughter and not a spokesman for American Apparel, received 14 Oscar nominations for best screenplay and directed 14 other actors in nominated performances. 14 Jews serve in the senate. The current Dalai Lama is the 14th leader of the Tibetan people. A hummingbird's heart flutters about 1400 beats per minute. Dr. Oz reported on Oprah that humans fart on average of 14 times a day. At age 41 and in our 14th year of brewing, the numerical sychronicity will happen only once in my lifetime. Here's to being here now… L'Chaim!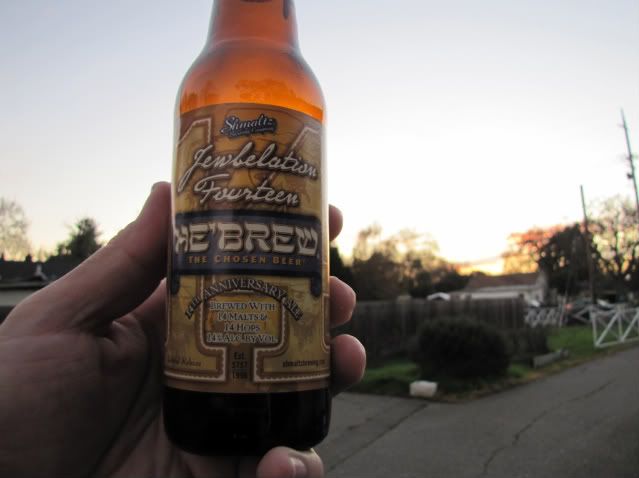 This is always one of my favorite releases of the season. I saved it for sundown to mark the beginning of Hanukkah. I love this beer because it's always something different and gets increasingly more complex. Each year one more malt, one more hop and one more percent of ABV are added to the beer.
With each year getting bigger, I asked myself a couple years ago, "How far can they go?" This year I asked brewer Jeremy Cowan the same question and he tells me that Shmaltz has no plans of slowing down.This year's beer was brewed with an ale yeast, but future batches may need the help of champagne yeast. As it is, at 14%, Jewbelation 14 is the strongest beer to ever be brewed in the Bay Area and gain a wide release.
Jewbelation pours a deep reddish brown, so deep that the color closes in on black. A thin, tight tan head sits atop the beer, slowly fading to nothing. There's a great aroma. Chocolate covered raisins lead the way but don't expect a big whiff of booze. First taste raisins, chocolate syrup fades to cherries, then toffee and finally to roasted malts. Coffee and dry cocoa sneak up at the end. BIG flavors, each sip seemingly different from the next. Toffee rising as you swallow seems to be the one constant. Jewbelation has athick, viscous mouthfeel with a creamy character coming out when you swirl the beer to bring out the head. With warmth, a coffee liqueur finish starts to emerge.
Full of flavors, Jewbelation 14 is a winter treat. Dangerous in that the flavors overwhelm the alcohol, this 14% beer is a sipper but can entice you into drinking a bit too much or too quickly. Whether you're lighting the Hanukkah Menorah or just looking for a delicious brew for the evening, Jewbelation is a great choice.
For a chance to try this beer, come down to the Toad in the Hole on Tuesday night. In addition to bottles of Jewbelation 14, the new Vertical Jewbelation, a barrel-aged blend of 7 years of freshly brewed Jewbelation beers, and the GABF Silver Medal winning R.I.P.A. on Rye, a double Rye I.P.A. aged in rye barrels, will also be available on draft. Come down to Railroad Square in Santa Rosa and join us.