Now that the Whole Foods in Santa Rosa has opened, some of you may have ventured in to take a look at the Tap Room. If you're not the type to have a beer before 5 o'clock, let me give a quick tour of what to expect at this newest beer stop in Santa Rosa.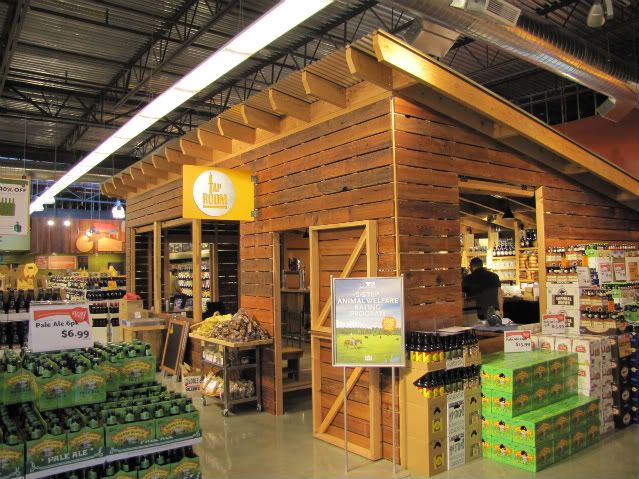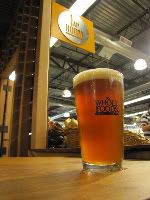 First things first, Whole Foods is a grocery store. They've been known to have an impressive beer bottle selection and this location is no exception. The beer aisle is fully stocked and has more than enough room to accommodate local brews as well as imports and craft beers from across the country. Find something you like and you can either take it home or walk over to the tap room and have it there for a $1 corkage fee.
Now that you're in the Ta Room, you can get an idea of what Specialty Regional Coordinator Benjamin Eksouzian had envisioned in this one of a kind Whole Foods experience.  On draft are 16 craft beers with an emphasis on local, seasonal, unique and one-off beers. Not just there to promote the beer department, the Tap room is supposed to give Whole Foods a chance to be a part of and highlight the exciting industry of craft beer.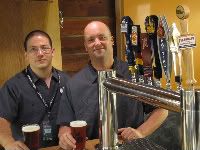 Heading the Tap Room is Tap Master Jayson Blakely. He will be assisted by "Beer Geek" Tyler Smith and Specialty Team Leader Michael Gilbert. Together, they will guide the Tap Room through the beer world via events and monthly changes to the offerings. Jayson envisions having 3-4 events a week, being Brewer's Nights, Trivia Nights or anything else to keep the Tap room exciting and relevant among craft beer fans.
For those unfamiliar with the craft beer world, the Tap Room will feature a full book detailing styles and bottles available at the location. Given a chance to look at the rough copy, I have to say, this is an impressive beer book and one I can see even hardcore beer fans flipping through while enjoying a pint.
Lining the back wall are logo glasses for many of the beers available to sample. If you're like me and have a glassware collection, some of these glasses may pique your interest. Don't be shy, these glasses are available to for $3.99 for you to take home.
In addition to the beer, the food at the Tap Room will be geared towards beer lovers. Pickles, pub cheese and crackers, cheese plates and an olive mix will provide your standard bar snacks, but the treat will come on the salami plate, where spent Russian River Brewing Co grains will be used to make the bread. This bread will also be available in the Whole Foods bakery.
Other features of this cozy little bar include a flat screen TV where NFL Sunday Ticket as well as other sporting events will be available (no TV until Thursday, sorry). Each table comes with a box of Trivial Pursuit cards and a nice view of the wine department.
Watch the slide show below for a full experience of my walk through of the Tap Room. Also, share your experiences with me below.