This past Thursday, I got the chance to head down to San Francisco and catch Zane Lamprey's new comedy tour, the Drinking Made Easy Comedy Tour. I was also lucky enough to get a chance to sit down with Zane and interview him prior to the show.
(Dislaimer: Before listening to the interview, I feel the need to set it up. First off, Zane's a very laid back guy and it was easy to let the interview turn into just hanging out. As such, I had to edit the interview and what seemed like a long session turned into a fairly short clip. Either way, I hope you all enjoy.)
As for the Drinking Made Easy Comedy Tour, this is a package deal with Zane's new HDNet TV Series, Drinking Made Easy. This show has been described as similar to Three Sheets, but more of it just being three friends (Zane, comedian Marc Ryan and sidekick Steve McKenna) hanging out and traveling around the country.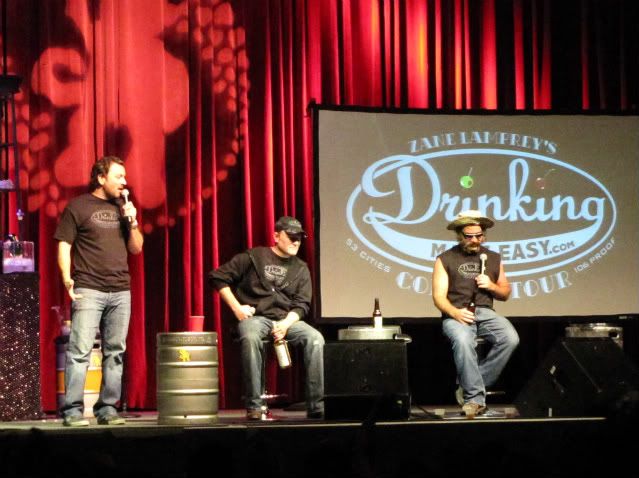 The live show consisted of Zane introducing the crew followed by an appearance by a life-sized Pleepleus. Marc Ryan's stand-up got the crowd warmed-up and Steve McKenna did what Steve McKenna does…drink. Zane then took the stage again and "educated" the audience Drinking Made Easy style. The evening was finished with some stories from the road, Zane sabering a bottle of champagne and then sing-a-long time.
All-in-all we had a fun time and it will be interesting to see the new series and what comes of Three Sheets. Check out the slideshow for a recap of the entire Drinking Made Easy Show. If you were there, let me know what you think.