Ever since the Ol' Factory Cafe closed in Sand City, I've been searching for a place to drink a decent beer on the Monterey Peninsula. Sadly, in the last few months, that typically meant bringing beer with me from Sonoma County when visiting home, or making a trip to Bottles and Bins and seeing what they had available (a very good option, I might add). Thankfully, a new spot has opening to satisfy my need for tasty craft brew: the Cannery Row Brewing Company.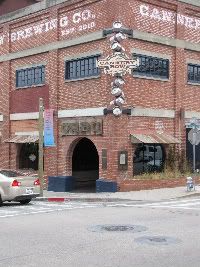 Before anyone asks, I'll answer the question many will be wondering: no, there isn't a brewhouse on premise. The house beers are brewed by a combination of 3 California breweries; St Stan's, Firestone Walker and Pyramid. While there are no concrete plans for a physical brewery in the near future, the idea isn't foreign to Dave Bernahl, co-owner of Cannery Row Brewing Company.
Lovers of food and wine may know of David Bernahl already. He's headed the Pebble Beach Food and Wine Festival and has a history of working in the spirits industry as well. When he saw the booming craft beer industry, he was interested in becoming involved. Instead of jumping in without the necesary expertise, he brought in an educated staff to help lead the Canner Row Brewing Company and the result is a multi-tap establishment that is nothing short of a destination for beer lovers of all types.
In all, there are 73 taps of beer (in addition to a tap for bourbon, tequila and root beer) all on a direct draw system. The cold box has specially cut out walls so that there is only 1/8″ of steel separating the bar from the refrigeration. The short draw distances and quick turn-around (no keg lasted more than 10 days since opening) guarantee fresh beer.
While the beer is what readers of this blog will be here for, the food is definitely worth mentioning. In my visit to the pub, Bernahl made sure I got a chance to try a fine selection of their dishes. The highlights included calamari soaked in milk for 48 hours, chicken wings smoked for 2 hours before fried and sauced and an ahi poke with taro chips that looked like guacamole but completely blew my mind. Burgers are ground and pork chops are brined in-house. Bernahl emphasized a desire to make the menu simple, but impressive, while keeping the price-point reasonable.
When it comes to the beer, there is a lot that you have already seen (as would be expected with 73 taps) and a good selection of beers that will truly excite a beer geek. Invited to enjoy a bottle of whatever I would like, I chose a bottle of Allagash's Fluxus while passing up Bosteel's Deus and Lost Abbey's Angel Share among others. On draft I was surprised to find the latest Sierra Nevada Beer Camp offering, Rhyme's Wit, when I was invited to attend a release party for the beer almost a full week later.
In the end, Cannery Row Brewing Company is exactly what Monterey needed. No, it isn't the perfect beer spot. The scene in Monterey holds the location back a bit. There's a definitely lack of anything sour, barrel-aged, or extremely hoppy on the draft menu. There is no local flair when the local brewing scene is essentially non-existent. The lack of an on-site brewing operation will upset some purists who feel a "Brewing Company" should brew their own beer. That said, for a community that has a solid wine and food background, it's significant that Cannery Row Brewing Company is the only place in town with more than a half dozen craft tap handles.
I look forward to visiting the Cannery Row Brewing Company in the future. I'm excited by the atmosphere and by the passion shown by the staff. At 10 days old, the location had some growing to do, but the owner, managers and serving staff were eager to learn and immerse themselves in the craft beer culture. I brought a bottle of Fantome Hiver along with me which was promptly handed around for the staff to sample. While I could see it was a new and foreign experience, there was no hesitation in taking the beer on and attempting to understand the complex flavors put before them.
I hope to see some of you down at the pub in the near future. Now, if only I could figure out how to feed the meters in a more timely fashion.