As I write this Beer of the Week I'm watching The Hangover and I'm reminded of Zach Galifianakis finding a baby in a closet. Waking up on Sunday morning, packing up camp, I found two bottles in our tub, no labels, just short necked Belgian bottles. With a little investigation, I found out the bottles came from someone representing Waterloo Beverages. While I was closer to the truth, I wasn't quite there. This week's Beer of the Week would be a mystery that would need to be solved.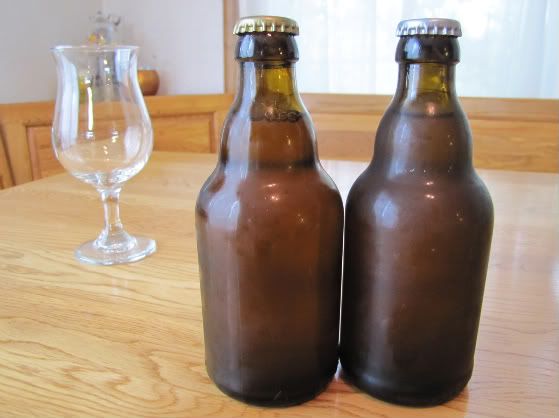 The two bottles I would try were different in only one way: one silver top, one gold top. After talking to John Vanloo, importer and distributor for Waterloo Beverages, I was able to obtain their product list:
330ml:
De Ryck (www.brouwerijderyck.be)
Ichtegem Grand Cru
Abbaye De St Amand
Bersalis
Gageleer (BIO = Organic) (www.gageleer.be)
750ml:
Oud Beersel Geuze
Oud Beersel Kriek
Leireken Wild Berries (BIO)
Jessenhofke (BIO)
Knowing the bottles were 330 ml, I could eliminate the second half of the list. With a little more investiogation, I discovered only two of the beers in the 330 ml lineup were available in the short-necked Belgian bottles: Gageleer and Abbaye de St Amand. Time to taste the beers.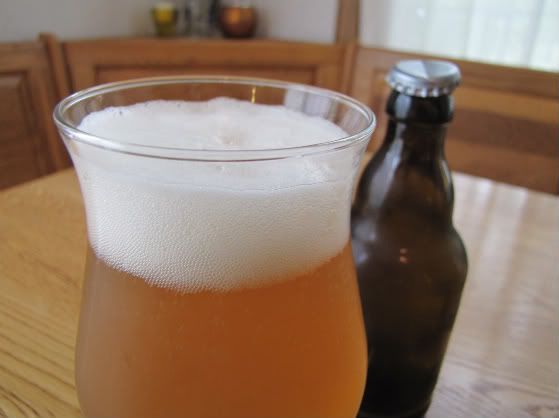 I started with the silver cap. The beer starts with a dry, slightly sour, fruity aroma. There's a hay-like hop aroma that stirs up in the back of the nose. A hazy orange color with a light, tight dissipating head. Very easy to drink, the alcohol hides itself in this beer. The aftertaste is slightly sweet with a touch of fruit. With a little warmth the aroma becomes more cheesy, yeasty and peppery.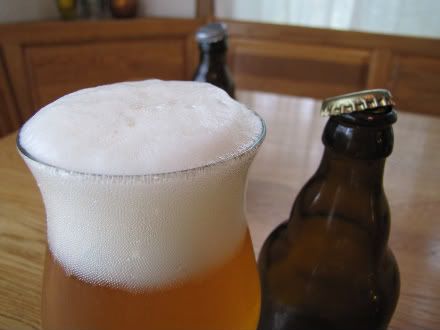 Moving on to the gold cap, this beer is clear and bright. I'm reminded of Duvel but with a more amber color, but the same rocky head. There's a rich, decadent malt for such a pale beer. The finish is odd, not hoppy, but herbally and with a bit of an odd twist. With more warmth a pilsner malt begins to emerge from the flavor.
With a decision to make, I turned to one thing. The finish of the gold capped beer reminded me of local Moonlight Brewing's un-hopped beer. These beers have featured bog myrtle, or sweet gale, as an ingredient, a key ingredient in the Gageleer. With that in mind, I submitted my guesses to John, who would act as my judge. He would confirm, my suspicions were correct.
Be sure to try the lineup from Waterloo Beverages as they become available around the Bay Area. Currently, look for these beers at the following locations, with more to come (hopefully Bottle Barn in Santa Rosa and Olde Sonoma Pub in Boyes Hot Springs):
Toronado
Monk's Kettle
Noeteca
Swirl
Beer Revolution
Churchkey
City Beer
Pi Bar (only Ichtegems Grand Cru)
Healthy Spirits