When a brewery is pumping out near 80,000 barrels of beer a year, you would expect them to focus on production. They would have to. Just to reach that amount of beer they would have to brew near 7,000 gallons of beer every day. Even with such demand on their facilities, Lagunitas is brewing numerous one-off beers. Here's a little sampling of what they've been up to lately.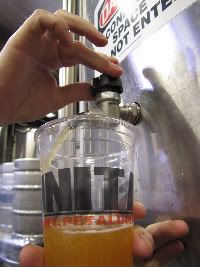 First, an old friend will be making a return, but slightly different. A Little Sumpin' Sumpin' was a huge hit last summer. This year, a fresh batch is ready for consumption, but with a twist. The hops were changed up slightly to provide more bright, fruity flavors and avoid more "oleaceous " hops. Then, this brew was pitched with their Belgian saison yeast. The result is honey-ish with bright citrus flavors and incredible drinkable. The beer finishes with a subtle Belgian yeasty bite at the back end. This new brew will be called A Little Sumpin' Wild and should be making appearances on draft shortly. Keep your eyes open for this one.
While a Little Sumpin' Wild will make it to kegs in the near future, some of the beer was added to fresh, unwashed chardonnay barrels. This beer was taken from the tanks prior to dry hopping. Brewer Jeremy Marshall says this was done as he doesn't like the way dry-hopped beers age. These beers will mature in the barrels and probably turn into 4 various brett-ed and fruited beers which will be ready in anywhere from 9-15 months.
Another beer we tried was a sour cherry and hibiscus saison. This was a very interesting beer, with the hibiscus taking on a big role. While this beer hasn't been soured at this point, it is still a possibility. If not soured, look for this one at the pub in approximately a week. If they decide to sour the beer it will be a minimum of 3 months.
Next we were brought samples of an agave saison. This beer was rich and sweet with no plans for souring. I thought a bottling of this beer would be appropriate with a worm tossed in the bottom, but that's just me. This beer will not be soured and should be showing up at the pub any time now.
Lastly, we were given samples of IPA fermented entirely on brett. At first I thought this was another barrel-aged beer, but I found out that it was actually done in stainless and wasn't a production beer at all. Brewed in the friendly propagation vessel nicknamed "R2-D2," this beer was purely utilitarian at first. IPA wort was used to grow and mature more brett for the barrel program. The result wasn't meant for consumption, but turned out to be very nice. Bright, tart and hoppy, this IPA is 6 months old at this point and has an uncertain future. Could it be a refreshing beverage for the brewers only? Maybe a small keg makes the pub? No one is sure at this time, but if it does become available it will be in small quantities and will not leave the brewery grounds.
Lastly, Lagunitas expanded their barrel room. Technically, they created a barrel room and moved the barrels into this room instead of them lining the walkways. Already full of barrels, it will be interesting to see where they leave these bad boys in the future.
So that's what's going on at Lagunitas. Check the slideshow below for some additional pictures.