As my relationship with beer continues into the 13th year, I have to admit I am having an affair with another. The mistress is cheese. But it's not what you think. Beer and I have an open relationship. In fact, cheese kind of spices up the love we have for one another. This weekend we all got together at the Artisan Cheese Festival.
The Artisan Cheese Festival was a weekend long celebration of cheese that started on Friday with the Barnyard Dance. Saturday was full of events, including a beer and cheese seminar hosted by Andrew Wild, that culminated in an 8 course feast featuring local products, cheeses and wines. Sunday was a two-part marketplace to wrap up the festival and this is where I found myself.
Upon entering you're greeted by a handful of volunteers, all eager to help with any questions. They hand you a complimentary cooler bag with gel pack and various pamphlets and programs with information about the vendors and participants.
Once you're inside you may be overwhelmed by the sheer amount of cheese, beer, wine and local vendors. The marketplace consists of two areas, an indoor u-shaped tent featuring all your vendors, and an outdoor area located on the inside of the U where Mugniani's Wood Fired Pizza Ovens was putting on a display of their oven and cooking some great pizzas, along with tables and chairs.
Inside, the beer vendors each had their own section of the "U" to handle. Russian River was pouring a wide selection of their beers, from mild to strong, hoppy to sour. Redemption, Pliny the Elder and Temptation were flowing on draft while the new 375 mL bottles of Damnation and Supplication were on hand. The blue cheese and fig pizza going around from the wood fired ovens went perfectly with the Pliny the Elder. For some reason, the pairing seemed familiar.
Making the turn you'd find Lagunitas side by side with Bellweather Farms. These two have worked together to pair some of their beers and cheeses and made for great partners at the event. Lagunitas had Pils and Hop Stoopid on draft and Wilco Tango Foxtrot bottles for the crowd to sample.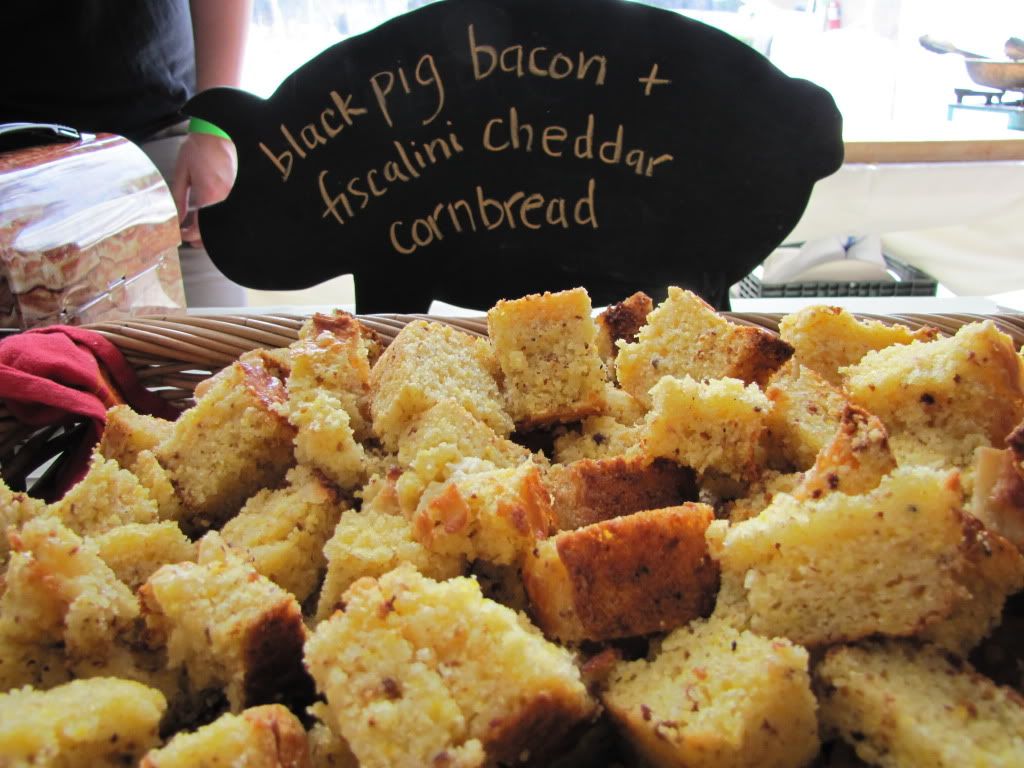 Across from Lagunitas was my personal favorite treat of the afternoon. Bacon Cheddar Cornbread by the folks responsible for Zazu restaurant. Wanting more they let me know that the item will be on their Mother's Day menu and may show up from time to time on the regular menu.
Wrapping up the tour of the beer booths, North Coast Brewing was something else. Each beer available for sample was paired with a cheese available on the table. Josh and Christina Charlton were on hand and armed with plenty of information for anyone interested in the beer or the cheese pairings. My favorites on the table were La Merle saison was paired with Cypress Grove Humboldt Fog and Rasputin XII with Cowgirl Creamery's Mt Tam. I snuck away for some Truffle Tremor (my new favorite barleywine cheese) from Cypress Grove to pair with the Old Stock Ale.
This tent was full of wonderful treats and cheeses as well and I found it hard to pull myself away. The beer and food were all fantastic and I really enjoyed the atmosphere, which was one of excitement for quality products. Some may be disappointed by the number of breweries, but I felt this proved to be a strength in the end. With three brewers who are so open and capable of being paired with cheese, it allowed the attendees to explore a little more deeply as opposed to blindly tasting numerous beers and having no idea where to go.
I look forward to the next Artisan Cheese Festival as I had a great time at this one. For a better idea of what happened, watch the slide show below. For higher resolution images, feel free to browse the entire collection of photos. If you attended the festival, share your thoughts and hopefully pictures as well.