Living in California, we like our beers supercharged, extreme, with lots of hops and alcohol.  Sure, you can have a couple pints, but in general, you have to handle these with care.  The English on the other hand like to pull up to the bar and get their drinking in.  We're talking pint after pint.  So it's only fitting that when I choose an English brewery to feature that I should go ahead and have a couple beers in one sitting.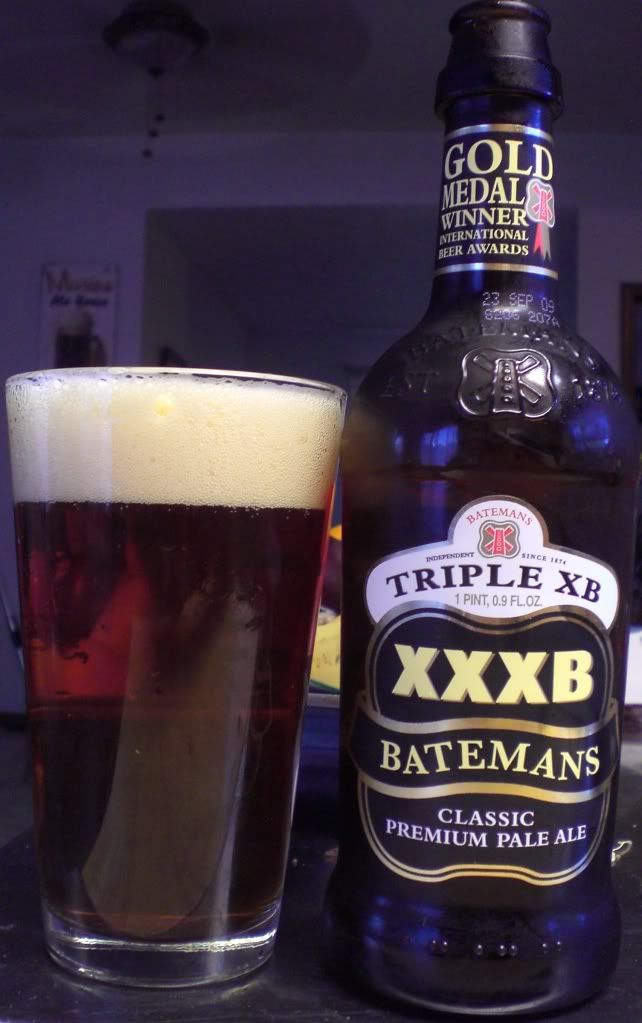 First I started with the XXXB.  This is a Classic Pale Ale brewed with Marris Otter malt and Goldings, Challenger and Liberty hops.  This beer has a bready aroma with a touch of earthy hops. It pours with a redish amber color and a frothy white head. The flavor is heavy on the malt side with a bready charachter.  The XXXB is very easy to drink but doesn't lack for flavor, something that American lawnmower beers could take a cue from. The finish on this beer is crisp and dry and encourages you to keep drinking.
Being so easily influenced, I opened the next bottle, this time it was Batemans Combined Harvest.  This was a little more of a unique brew so a description from the brewery would be more appropriate.
Combined Harvest is a unique combination of brewing worts, or extracts from a variety of cereals. Most premium ales are brewed only using malted barley, but this multigrained beer has a blend of malted oats, malted rye, and malted wheat. The end result is lots of flavour.

A unique multigrain blend of malted barley, oats, rye and wheat. Grainy tasting with a delightful floral start and finish.
As you might guess, this bl;end of grains results in a bready aroma but with a sweet and sour touch.  The flavor is similar to the aroma with rye highlights that lead the way along with apples and fruit.  This beer proves to be incredibly easy to drink with a grassy finish.  I actually gulped this down rather quickly.
Together, these are two quality beers that fit the bill for a long drinking session.  Beer isn't all about big hops, potent alcohol and pishing the limits.  While I love my over-the-top brews, its always good to ground yourself with a well crafted ales of a more traditional style.  Batemans certainly delivers on this level and I recommend giving their beers a try.