Last week, my Beer of the Week was a bit of a disappointment.  With that in mind, I really wanted something to blow me away for this week's entry.  I was so determined, I searched far and wide for a suitable beer.  The search took me to Southern California initially, but that well was dry.  So my adventure took me further from home, across the dry southwest, across the muddy Mississippi, through the land of Dixie until I finally found what I was searching for in the state of Georgia. 
I've tried the lineup of beers from Terrapin Beer Company in the past (part 1 and 2), and even had a bottle of their Left Hand collaboration sent out to me last fall from a friend in Denver.  I guess you can say I've become a big fan of theirs since first getting in contact with them when the blog started.  So when I got wind of their Side Project Series, and found out I had missed 4 entries, I knew I had to get a taste of #5, Monk's Revenge.
Here's the description as provided by Spike over at the Terrapin website:
This Belgian IPA has a malt bill of a Belgian Tripel and a hop bill of a Double IPA. The yeast I chose for this beer comes from one of the 7 Trappist breweries.

Believe it or not, this is the first time in my professional brewing career that I have used dextrose (corn syrup) in a Terrapin brew. True to style no doubt.

"Monk's Revenge" otherwise known as the "Big Nasty" has all the flavor and aroma of a Double IPA while hidden beneath lies the malt character of a fine Belgian Tripel.

I hope you enjoy my interpretation of this very fun style.

Cheers! Spike

Monk's Revenge: Belgian Style Double India Pale Ale Malts: 2-Row Malt, Pilsner malt, Munich, Special Aroma, Pale Crystal, Acidulated Hops: Magnum, Columbus, Chinook, Centennial, Amarillo, Cascade, Simco Adjuncts: Dextrose

OG: 19.7 ABV: 9.8% FG: 2.1 IBUs: 99
First things first, I love the idea of the Beglian Tripel/Double IPA hybrid.  A tripel is a great showcase for yeast and malt while Double IPA are said to contain a little bit of that tasty hop cone, not to mention a good deal of malt for balance.  Together, this embodies the idea of "extreme beer," regardless of how ridiculous that label may be.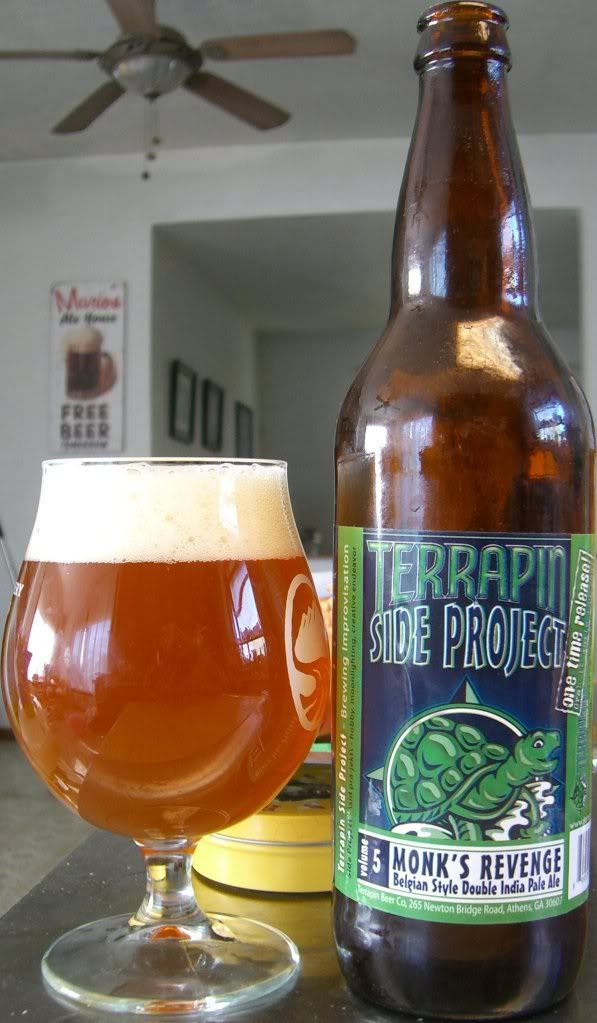 Upon pouring this beer into the glass, I'm greeted with a great aroma.  A lot of yeast and hops, there's a funky, tropical fruit nose of which I couldn't get enough.  The beer is a cloudy orange with a rocky white head.  Before I can get my first sip I have to enjoy the aroma one more time.  The aromatic scene sets the stage perfectly for what you get in the flavor as the Trappist yeast is the dominant charachter.  The fruity flavors of the yeast blend into the big hop flavors of the finish, which provide a perfect balance.  As you might expect, this beer brings the funk as well, and lots of it.  When I'm done drinking, I'm left with a warm feeling in my stomach that reminds me of the strength of this tasty brew.  Fantastic beer.
With Monk's Revenge, everything is big.  Big malt, huge yeast flavors, tons of hops, and a big funky bite all balance off of each other to make for a tasty brew.  What I found amazing was that with all of this going on, the near 10% alcohol seemed to fall to the back of the flavor profile and only revealed itself in the intoxicating effects of the beer.
This is definitely a bottle to split with a friend.  Not only is it a big beer, it will spark a lot of conversation with fans of more assertive styles.
Thanks to Dave for providing this bottle.  He's already been warned that a Side Project 6 is due out soon.