As I mentioned the other day, I was lucky enough to receive a package of beer from Ryan in South Carolina recently. Ironically, the reason the package was originally sent was to share some beers that actually hail from North Carolina. With almost a full mixed six to get through, I felt Highland Brewing Company deserved a day all to itself.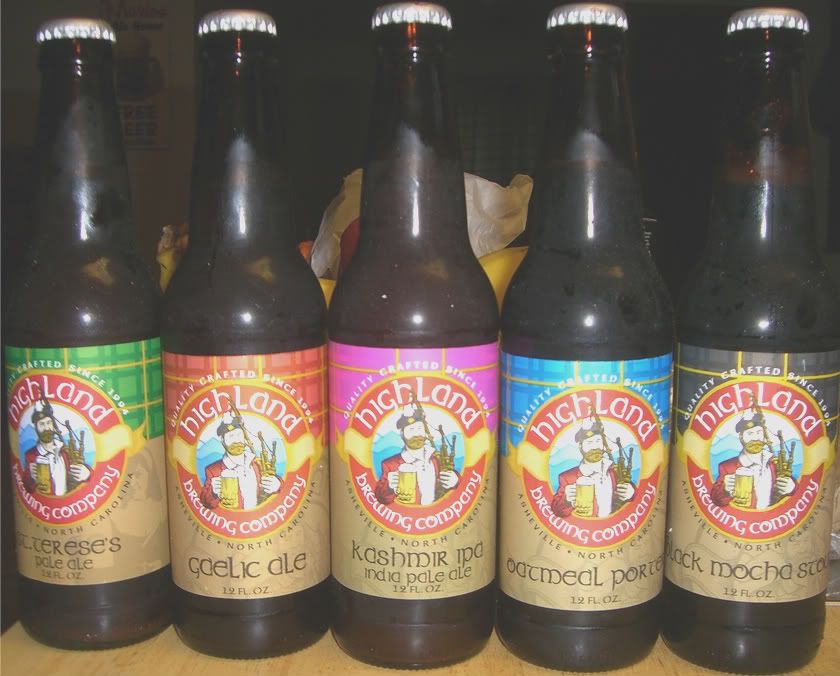 The first beer I got into was St Terese's Pale Ale.  This brew has a citrusy, fruity aroma to go with a hazy golden orange color.  Very light on the tongue, the flavor are of light fruits, apple, and faint ctirusy hops.  Very clean finish with a touch of sweetness.  The aftertaste is a more grassy hop flavor that lingers with American hop notes.  This easy drinking beer wass a good place to start with this brewery.
With the pale ale out of the way, it was time to turn it up a bit and try the IPA.  Appearance wise, the Kashmir IPA looks almost identical to the pale ale.  The aroma is more European with grassy, spicy hops sitting on top of the malt.  It's all relatively light though, and not very strong.  This IPA is in the English style with a subtle finish and more grassy hop finish.  Not very big, not very aggressive, I look for more in my IPA, but this is still a decent beer.
For a brewery with the name of "Highland" with a plaid theme on their bottles, I had high hopes for their Gaelic ale.  This beer was a hazy amber red with a solidly malty aroma.  I had to pause for a minute and take in the smells of the beer, which were full of brown sugar and chocolate and reminded me of a sticky mash.  The aroma was a nice preview for what was to follow in the flavor, a lot of malt, very bready and very rich.  All the malt is balanced with a subtle hopping in the back end that doesn't stand out, but provides a nice finish.
The final two beers from Highland got a bit darker.  The first of which was their Oatmeal Porter.  The beer pours and opaque black with a thin white head with a roasted smokey aroma.  This beer reminds me more of a stout than a porter by appearances.  The flavor is predominantly coffee with a bit of sweetness.  After drinking it, I am thinking more so that this is a stout and not a porter.  I even broke out a piece of aged Gouda that I like with Anderson Valley's Oatmeal Stout and the pairing went well.  Very tasty brew, but notreally a porter.
After the "porter" I had come to my last beer, the Black Mocha Stout.  This beer has a black viscous pour with a thin mocha brown head.  The aroma is of chocolate syrup which carries over into the flavor.  There's also a bit of coffee and roasted nuts in the flavor to add some body and bite to the sweetness of the chocolate.  These flavors linger into the finish.  This is my favorite of the Highland beers, very tasty.
So after 5 beers, I've gotten to know Highland Brewing company fairly well.    I can't say I had a problem with any of the beers and was really impressed with the last three.  It's too bad the Highland beers don't make it to California, but you never know what could happen in the future.